If you are organising a funeral for a friend, family member or partner who has passed away, you may want to consider a humanist funeral. This type of service is perfect if your loved one was not religious or did not want a religious funeral.
Our knowledgeable funeral directors will be able to offer advice and guidance for hosting a humanist funeral service. They will be there to make the arrangements on behalf of you and your family, as well as offering emotional support at this difficult time.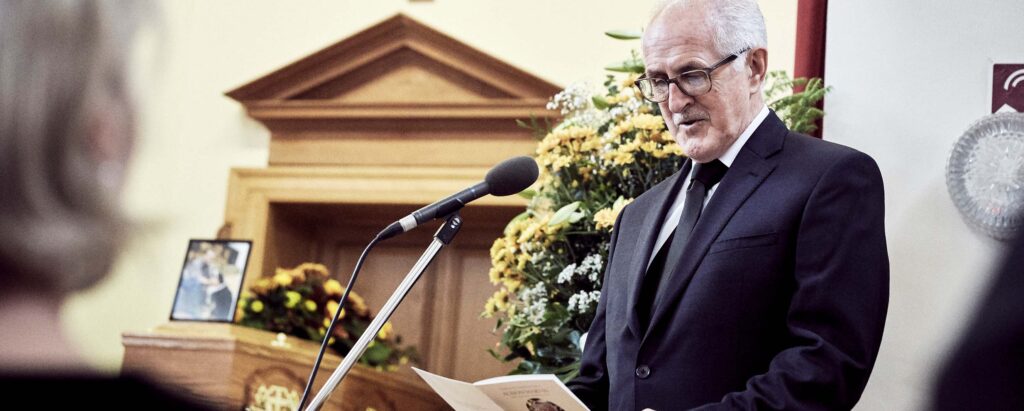 What is a humanist funeral?
A humanist funeral is a non-religious funeral service (funerals without a god or spiritual figure) that celebrates the life of a friend, family member or partner. It does not follow any form of religion i.e. not driven by traditions, rituals, or beliefs, and is usually the preferred choice if your loved one was humanist or atheist. Whatever decision is made, the sentiment remains the same.
For more information about humanism, Humanists UK are an organisation working to bring non-religious people together and develop their understanding of the world around them.
What happens at a humanist or non-religious funeral?
They often have a similar format to traditional religious services, such as eulogies and non-religious funeral readings, but the overall funeral is not tied to a tradition or belief system. The structure of the service is completely up to you, but a common service includes:
Who conducts a non-religious funeral?
In essence, anyone can conduct a non-religious service. There is no need for a member of the church to deliver the service, meaning a variety of people can take on this role. These include:
A funeral celebrant will usually meet you prior to the service to find out more information about your loved one. This is to ensure they choose appropriate poetry, music and readings to personalise the funeral service and make it unique to your loved one.
Can you have a humanist funeral in a church?
The Church of England says you don't have to consider yourself religious to have a funeral in a church, however, if your loved one followed a humanist philosophy through their life, it may be better to find an alternative venue. Fortunately, there are lots of wonderful places to hold a non-religious funeral, these include, but are not limited to:
What happens after a humanist funeral service?
As with any religious ceremony, a humanist funeral is often followed by a reception or wake. This may be at a family member's home or a hired venue. Alternatively, you may want to host a memorial service at a later date to celebrate the life of your loved one.
What to wear to a humanist funeral?
Family and friends of the deceased should dress in proper mourning attire – unless told otherwise. That is, black or dark coloured clothing that are conservative in style. In some cases, the family may express a desire for attendees to dress in another way, perhaps a certain colour, style or pattern that was associated with the loved one they have lost.
How long does a humanist funeral last?
Depending on what content you would like to include in the order of service, a humanist funeral can last as long or as little as you like. That being said, 30 minutes is a common duration.
How much does a humanist funeral cost?
Prices vary depending on your chosen funeral home and any additional extras you may want/require. For a personalised quote, please get in touch with your local funeral director.
Religious funeral services
If you are considering a religious funeral service, Funeral Partners offer a range of options to suit all religions, cultures and beliefs. These include:
Funeral Partners have over 200 funeral homes across the UK which can offer support and advice regarding funeral ceremonies. If you would like to discuss your options for a religious or non-religious service, please get in touch with your local funeral director. 
Further Reading: Arranging a funeral
Read about how funerals are arranged and what services you can expect to get.