Compare cremation funeral services
More than three-quarters of people in the UK now choose a cremation over a burial. This means finding the right cremation services is vital for families across the country.
How to compare cremation services near me
Visiting your local Funeral Partners branch website and arranging to speak to the Funeral Director is the best way to tailor a cremation service for you and your loved ones. Make sure to ask about cremation regulations, transport and cost to make an informed choice.
Enter your funeral director location and search
Type your location to search for cremation services near you.
Select a funeral director offering cremation services
Find the most convenient funeral director location to see the options they offer, and gain more information about the high-quality service they provide.
Get in touch with your local funeral home
Speak to one of our dedicated and knowledgeable team members, who can explain the cremation process and the different options available.
Search for cremation services in your area
The average cost of cremation services varies on a number of factors such as your location, the type of cremation funeral you choose and the additional options you choose to make the day as special as possible. Search for your local funeral director and cremation providers using the above search box, who will be able to provide you with a cost tailored to your options.
Gillmans in Carshalton have handled two funerals for us with great care and attention with both – there were helpful and kind.
Thank you Leanne your made things so much easier and Sam and her team were so caring on the day.
Just want to thank everyone involved with making my mums funeral less stressful. It was good to be kept informed about everything. Everyone was respectful and very helpful at this very difficult time, which made the whole process easier to deal with.
My family have used Wm. Dodgson for many years. Therefore I had no hesitation in contacting them after my recent bereavement. I am glad I did because from first contact on they provided excellent service. Thank you.
Reviews in partnership with


What is a cremation service?
Cremation services usually involve a gathering of family and friends and a cremation committal to say goodbye to a loved one. The cremation itself is conducted by a cremator in a crematorium. There may be a funeral service at a church or different venue before moving to the crematorium for the committal, or a religious or non-religious service may take place at the crematorium before the cremation. After the cremation, the ashes are returned to the loved ones of the deceased individual. Cremation is an alternative final disposition compared to burial. A direct cremation, on the other hand, separates funeral and cremation by not holding a service or inviting guests.
Compare cremation services in your area
Planning a cremation ceremony
Cremation services can be shorter than burials, as the actual cremation generally isn't attended by guests. There is ample time for eulogies, speeches and music, so don't hesitate to discuss a variety of options with your local funeral director. It's important to know not all service venues have a crematorium, so check the facilities and transport needs for the nearest or your chosen crematorium first.
A cremation committal is a short ceremony at the crematorium before the physical cremation takes place. At a cremation committal, the coffin is typically obscured from view with curtains at the end of the cremation service for people to pay their final respects before it's moved to the crematorium. However, it's possible for the coffin to remain viewable during the send-off. You should discuss your wishes with your chosen Funeral Partners branch.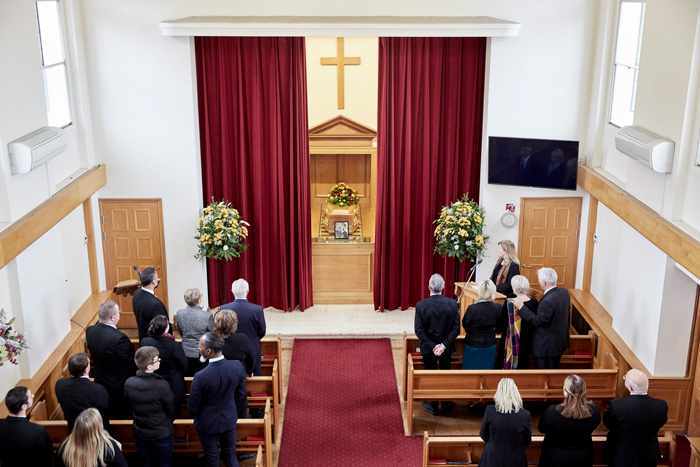 Certificates and documentation for cremations
Someone aged over 16 – usually the nearest relative or executor of the will – must apply to cremate a loved one. In most cases, this will be by filling out the Ministry of Justice's Cremation application form for authorisation to cremate the remains, but may require other documentation such as the Application form for the cremation of a stillborn baby. The relevant forms can be easily downloaded from your local council's website. Other legal applications are handled by the coroner and medical practitioners. Your Funeral Partners Funeral Director can help you to complete the correct paperwork, and will ensure that all of the necessary documents are submitted to obtain the certificate authorising the cremation.
Why use Funeral Partners for cremation and funeral services?
It's easy to see Funeral Partners is a widely respected brand. MuchLoved, the bereavement charity, for example, collects and publishes independent reviews of funeral directors which consistently rate Funeral Partners branches highly. Funeral Partners has over 200 funeral homes and organises 13,000 funerals a year in the UK. Some branches offer many different services and this choice allows families to find the right funeral providers for them and get in touch with ease, at a difficult time. We have a deep knowledge of the industry, providing reliability, trust and quality to help you navigate a difficult and potentially unknown time.
Search for your local cremation service to see reviews, and receive a tailored package to meet your budget and requirements.
Search for cremation services in your area
Considerate & sympathetic
Helpful considerate sympathetic went out of there way to help make the process as smoothly as possible, kept in touch throughout the whole time would recommend without reservation.
Outstanding from the initial phone call to the internment. Nothing was too much trouble and we were guided through the whole procedure with compassion and efficiency. Thank you.
I would like to thank Cheryl for her understanding, respect and sensitivity in helping my Husband and I to arrange for my Mothers Funeral. We have used Doves on two there occasions and we have always found great help.