With around 2.4 billion followers globally, Christianity is the largest religion in the world. It is based on the teachings of Jesus Christ and focuses on the relationship its followers have with God. The religion is divided into a number of sub-groups, the largest being Catholic, Orthodox and Protestant. Each Christian group follows their own set of customs and rituals, including how they approach funerals and death.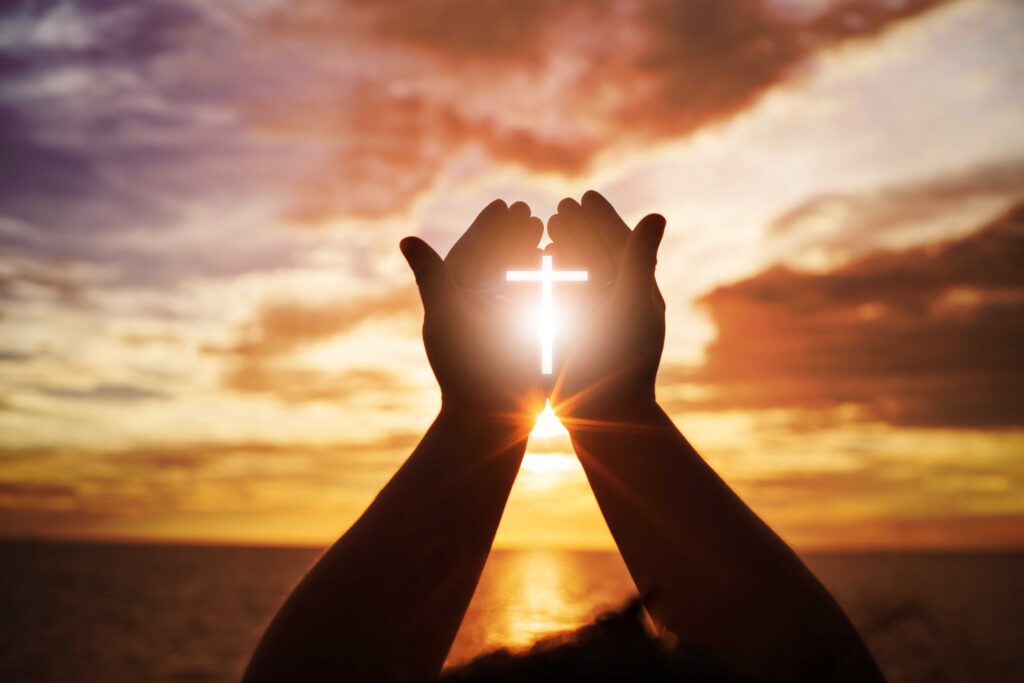 Christian beliefs about death
The Christian faith revolves around a belief in heaven, hell and purgatory. Where a person's soul will end up is determined by how they act throughout their life; the righteous will go to heaven and be in the presence of the Lord, while the sinners will go to hell. For those who have committed forgivable sins in their lifetime, Christians believe they must serve time in purgatory before they can move on to heaven.
Christians and cremation
Typically the Christian faith prefers burials over cremations; this is because it interferes with their beliefs on resurrection and the afterlife. However, if a loved one is cremated, the church asks that their ashes are respectfully buried instead of scattered. Organ donation is seen as an act of charity and therefore accepted by numerous branches of Christianity.
What are Christian funeral rites?
Christian funeral rites are a set of principles and actions that are carried out when a loved one dies. Common rites include, but are not limited to:
A eulogy
Prayers
Bible readings
Interestingly, Protestant funeral rites are simpler and less extravagant than Catholic funeral rites. Catholic funerals place greater focus on rituals, whereas Protestant funerals are more focussed on remembering the deceased. The overall purpose of a Christian funeral is to help the deceased's soul enter into Heaven, while offering comfort and support for mourners.
What happens at a Christian funeral?
Like most religious funerals, a Christian funeral service is tailored to the person who has died. The service is usually carried out at a church, crematorium or cemetery and will include prayers, a sermon, readings, hymns and sometimes music or poems (see our guide to popular funeral songs and famous funeral poems). Additionally, a friend or family member may choose to deliver a eulogy as a tribute to the deceased.
Before the funeral service:
Vigil – the friends and family gather together before the actual funeral service. Here they exchange memories, read prayers, and hymns are sung – it is generally considered a celebration of life. This ceremony usually occurs at the bereaved family's home, a Christian church, or even at the funeral home.
On the day of the funeral service:
The entrance – once the friends and family have arrived at the venue, pall-bearers will carry the coffin to the room/burial site. A priest or minister will sprinkle holy water over the coffin or casket and read a passage from the bible.
Hymns and prayers – throughout the service there will likely be a number of hymns and prayer readings. These will have been picked by the family of the deceased, who may have been given instructions by their loved one before they died. Here is our list of popular funeral hymns.
Psalms – many funeral services include a reading of a Psalm, often Psalm 23 ('The Lord is my shepherd').
Mass –a priest or minister will deliver the Eucharist Prayer and Holy Communion. Not all Christian funerals will include a mass, but if they do, it will usually add around 30 minutes to the funeral service.
Rite of Committal – this is performed by a priest or minister at the final resting place (graveside for a burial or before the curtains close at a cremation).
Burial – here the friends and family are given the chance to say their final goodbyes. Some mourners will sprinkle a small amount of dirt on the casket.
After the funeral:
Reception or wake – mourners will gather at the bereaved family's home to express grief, offer their condolences and read Psalms. Food and drink is often provided and attendees may bring flowers or gifts to give to the family of the deceased.
How long is a Christian funeral?
Typically, a Christian funeral will last around an hour. This can be shorter or longer depending on whether the funeral includes a mass.
What to take to a Christian funeral
There is no expectation to take anything to a funeral, but flowers or a card for the grieving family can be a nice gesture. For some funerals, the family may request a charity donation in honour of the deceased instead of flowers.
What to wear to a Christian funeral
It is funeral etiquette to wear dark colours and smart clothing to a Christian funeral service. It is also respectful to wear modest clothing that isn't too revealing i.e. the knees and shoulders should be covered. Mourners are not required to wear a head covering. If you are unsure of what is appropriate clothing for a funeral, you can read our guide: what to wear to a funeral.
If you are planning a funeral for your loved one, please contact your local funeral home
Further Reading: Arranging a funeral
Read about how funerals are arranged and what services you can expect to get.