Paperwork may be the last thing on your mind after losing a loved one, but failing to register a death
not only risks putting funeral arrangements on hold but also risks breaking the law. Fortunately,
registering a death in the UK is more straightforward than you think.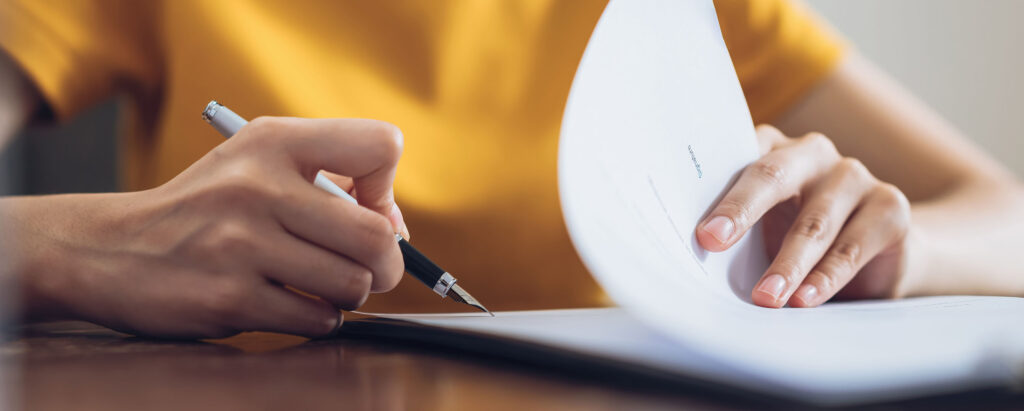 How long do you have to register a death?
You normally can't wait longer than five days to register a death in England and eight days in Scotland, which includes weekends and bank holidays. But this can be extended by a further nine days if you provide the registrar with written confirmation that a Medical Certificate of Death has been issued.
Where do you register a death?
Any register office in the country can be used when looking where to register a death. But choosing one too far from the loved one's place of residence can cause paperwork delays and risk missing the five-day limit.
A register office in the same district as your loved one's house should ideally be used if they passed away at home. If the death occurred in a nursing home or hospital, refer to their district register office.
These options aren't always practical, especially if you live far away from the deceased. So choosing the closest register office to their last residence as possible is the best option.
You can find the nearest register offices on GOV.UK's 'Find a register office' for England and Wales', the National Records of Scotland for Scotland or nidirect for Northern Ireland.
Register offices can be incredibly busy. To avoid unexpected delays or increased waiting times, it is recommended that you call ahead of your attendance to make an appointment. This will allow you to prepare relevant documents to bring along to your appointment.
Who can register a death?
The person registering a death – otherwise known as the informant – is often a close relative of the deceased, named the executor of the Will. If a close relative is not available to do so, it's also possible that the informant can be:
a relative who witnessed the loved one's death, last illness or who lives near their residence
the owner of the premises where the death occurred
the relative arranging the funeral with the funeral director or someone else who was present at the death
What do you need to register a death?
The only document needed to register a death is a Medical Certificate of Cause of Death
– not to be confused with a death certificate. This will be issued to you by a doctor and lists your loved one's cause, date, and place of death, as well as name and age.
Other documentation is not essential for registering a death, however providing as much additional information as possible can help speed up the process. You shouldn't delay registering if you do not have the below information.
It helps the registration process if you can also present:
the deceased's NHS medical card
birth and marriage/civil partnership certificates
driving licence
council tax bill
proof of address and passport
As well as the details on the Medical Certificate of Cause of Death, further information required from you includes the deceased's last occupation, address, state pension information, place of birth and their partner's full name, birth date and occupation. Bringing supporting documents for these is useful but not vital.
What documents will you receive from the registrar?
The registrar will give you two documents once they have all the information required. The first is the Certificate for Burial or Cremation, known as the green form. The second document will be the death certificate, which is a paid-for service. The Certificate for Burial or Cremation allows the deceased to be buried or cremated and must be handed to your chosen funeral director. Registrars can instead provide a burial-only green form if the death is yet to be registered.
Additional copies of the death certificate can be important, especially when administering the estate, or if the estate falls into probate, as photocopies are not usually accepted.
The registrar may also provide a BD8 Registration of Death form. If your loved one received a state pension or benefits these must be completed and mailed to the addresses already written on.
How much is a death certificate?
The cost of a death certificate excluding postage fees is £11 in England and Wales – £15 if you haven't registered for a GRO index reference number – £10 in Scotland, and £15 in Northern Ireland. Multiple copies can be ordered for the same price in England, Scotland and Wales, with Northern Ireland charging just £8 per additional copy of a death certificate.
Death certificates typically take up to five working days to arrive but if needed sooner, one can be sent with priority for £35 in England, Wales and Northern Ireland, and £27 in Scotland.
If a death is registered overseas, however, a death certificate won't be available until November the following year, with a priority postage fee of £50. And if one is needed for use in the EU, a Multilingual Standard Form is needed at a cost of £22.
You can order all death certificates on the HM Passport Office site in England and Wales, National Records of Scotland in Scotland or nidirect in Northern Ireland.
Can you register a death without a birth certificate?
Yes. A birth certificate can help the death registration process, but the only essential document needed to register a death, is a Medical Certificate of Cause of Death, which will be given to you by a doctor.
What do you do after registering a death?
The deceased's Will, property and finances can be handled once the death certificate has arrived and you will be able to lay your loved one to rest when the Certificate for Burial or Cremation has been filled in and given to your funeral director.
Your can search for your local funeral director on the Funeral Partners website and will be able to start arranging the perfect send-off for your loved one.
Compare Cremation Funeral Services
Cremation services usually involve a gathering of family and friends and a cremation committal to say goodbye to a loved one.
Further Reading: Arranging a funeral
Read about how funerals are arranged and what services you can expect to get.