If you are planning a funeral service for a partner, friend or family member, you may want to include a hymn within the order of service. Whether your loved one was religious or not, hymns can play a wonderful part in setting the tone of the funeral as well as celebrating the life of the individual. They are no longer just included within religious funerals, but also a popular choice for non-religious ceremonies.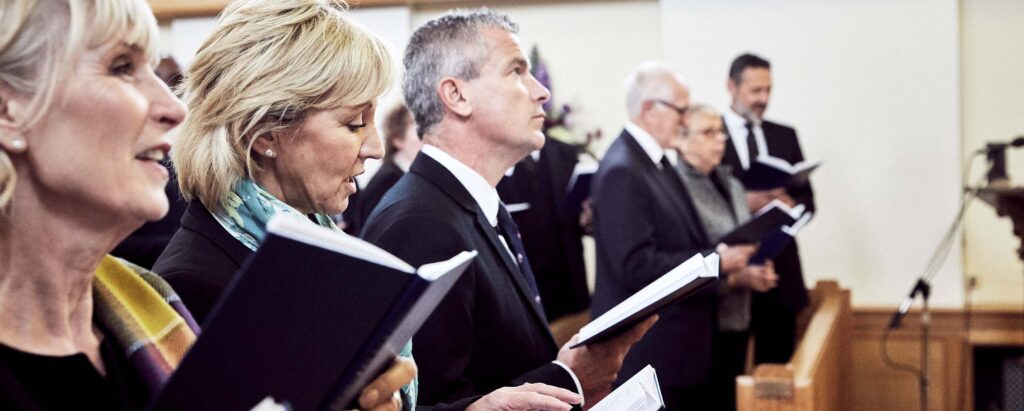 Here are some popular funeral hymns that you may want to consider:
1. How great thou art
'How great thou art' is a Christian funeral hymn based on a poem by Swedish born Carl Boberg, written in 1885. Following a Swedish traditional melody, the hymn celebrates the beauty of nature and the sound of church bells. It was voted the United Kingdom's favourite hymn by BBC's Songs of Praise.
2. Day thou gavest lord, is ended
Also highly regarded by BBC's Songs of Praise, 'Day thou gavest lord' is said to have been written by John Ellerton in 1870, a Cheshire vicar and one of the leading hymn writers of his era. This hymn gives thanks to the expansion of the church and God's everlasting love.
3. Morning has broken
First published in 1931, 'Morning has broken' is a Christian hymn set to a traditional Scottish Gaelic tune (Bunessan). The words are by English author Eleanor Farjeon and were inspired by the village of Alfriston in East Sussex. This is a beautiful hymn with joyful lyrics.
4. All things bright and beautiful
'All things bright and beautiful' is a 17th century Anglican funeral hymn with lyrics by Cecil Frances Alexander; first published in Hymns for Little Children. This is an extremely positive and uplifting hymn that celebrates all things living.
5. Amazing grace
'Amazing Grace' is a Christian hymn published in 1779, with words by English poet and Anglican clergyman John Newton. During the 1960s, the revival of folk music in the US led to the hymn's rise in popularity, and since then the hymn has appeared in popular music charts.
6. Jerusalem
'Jerusalem' was originally written by English poet, William Blake, in 1804, but the lyrics were added to Sir Hubert Parry's music in 1916. Many consider this famous hymn as an
alternative to the English national anthem
.
7. Lord of the dance
'Lord of the dance' is a hymn written by English songwriter Sydney Carter in 1963. The melody is from the American Shaker song "Simple Gifts" and is a lively, light-hearted hymn.
8. Shine Jesus shine
'Shine, Jesus, Shine' is a Christian praise song written in 1987 by Graham Kendrick. It's a modern hymn and an uplifting song of praise.
How many hymns are sung at a funeral?
If you are choosing to include hymns in the order of service, there is usually a minimum of two – opening hymn and closing hymn. However, if you wish to include more or less then that is completely up to you.
Can you have hymns at a humanist or civil funeral?
As mentioned before, hymns can be included in both non-religious and religious funerals. It is down to the friends and family of the deceased to make this decision.
Do you need an organ at a funeral for hymns?
Organs and pianos are the most common instruments used at a funeral, however you are not limited to these. Instruments can vary from: violin, clarinet, trumpet, French horn, saxophone, flute, guitar. Alternatively, some people will use recorded music to accompany the hymns.
Is it possible to have a small funeral without hymns?
It is up to the friends and family of the deceased to decide if they want to include hymns within the order of service. Nowadays, some people choose to include music instead of hymns.
What do you call the hymn when you exit the funeral?
'Recessional hymn' is another term for the hymn played at the end of a church service, such as a funeral.
Further Reading: Arranging a funeral
Read about how funerals are arranged and what services you can expect to get.