Funeral Attendance Etiquette
A funeral service is an emotional time and there can be lots of things to think about: how to dress for a funeral, where to sit during the service, what to say to close family members. If you are planning to attend a funeral, or still deciding whether to go, here is our guide on funeral attendance etiquette.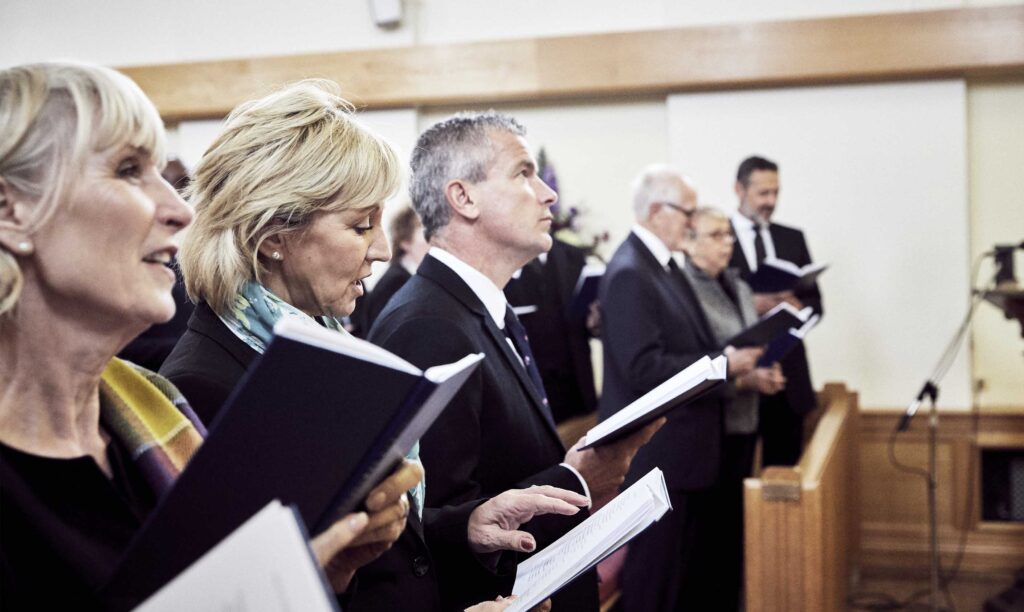 What is the etiquette for attending funerals?
There are lots of things to consider when attending a funeral, but arguably the most important are:
Arrive promptly
Be respectful
Turn your phone off, or put it on silent
Dress appropriately
Who can attend a funeral?
A funeral service is an opportunity for family, friends and acquaintances to pay their respects to the person who has died. It is generally open to anyone who wishes to attend, though the family may state it's a private service, in which case it's exclusively for family members and close friends.
Should children go to a funeral?
It's your decision whether you want to bring your child to the funeral. Their maturity level, understanding of death, and relationship to the deceased are all factors to consider when making your decision. If you think they might disrupt the service or distract from the purpose of the funeral, it may be better to leave them with a babysitter or family member.
How to dress for a funeral
Black is considered the traditional colour for a funeral in Western society, however, some religions or cultures have a different colour for mourning. For instance, it is funeral etiquette to wear white to a Hindu funeral or Sikh funeral. For more information see our full guide: what to wear to a funeral.
Who travels in the funeral cars?
In the funeral procession, the vehicle directly behind the hearse carries the close family members – partner, children, parents or siblings. Some processions have more than one vehicle, with mourners travelling in their own cars behind the bereaved family.
Where to sit at a funeral
The immediate family and close friends will take up the first few rows, then the rest of the mourners should fill up the seats directly behind them.
What to take to a funeral
You are not usually expected to bring anything to a funeral, unless the family tell you otherwise. If appropriate, you may wish to send a sympathy card or funeral flowers to the home of the grieving family. Alternatively, the family may have set up a memorial page where you can leave a donation.
What do you say when speaking at a funeral?
A funeral can be an upsetting time for family and close friends of the deceased, so you need to be respectful when speaking at a funeral. If you can't find the right words to say, you may wish to recite a funeral poem or do a reading instead.
Is it disrespectful to not attend a funeral?
If you live far away, are ill, or believe your attendance would cause distress or disrupt the service, it may be better to avoid going to the funeral. Instead, you may wish to send a sympathy card or send flowers to the bereaved family.
Should I go to a funeral of someone I haven't seen in years?
The purpose of a funeral is to mourn the deceased and show support for their family. If you don't feel comfortable doing this then you are not obliged to attend a funeral. But, out of respect, you may want to let the bereaved family know you won't be attending.
What to say at a funeral when you don't know the person?
If you are attending a funeral of a person you don't know, perhaps you are there to support a friend, partner or family member, you must remain respectful. You could say things like: I can't imagine how you feel, you and your family are in my thoughts, he/she will be missed.
Is it bad to cry at a funeral?
Everyone shows their emotions differently and it can be healthy to cry at a funeral – don't feel embarrassed. Though, if you become a bit overwhelmed and find yourself crying uncontrollably, it's a good idea to excuse yourself until you have regained control. You don't want to draw attention away from the ceremony or make other mourners feel uncomfortable.
Is it disrespectful to record at a funeral?
This depends entirely on the preferences of the bereaved family. The important thing to remember is don't let it distract from the ceremony.
For more information about the day of the funeral, please contact your local funeral home
Further Reading: Arranging a funeral
Read about how funerals are arranged and what services you can expect to get.