Guide to Writing a Good Eulogy
Giving a eulogy is considered a huge honour for many people. It suggests that they played a meaningful role in the life of the person who has passed away, and have a valuable insight into the life that person lived.
If you have been asked to deliver a eulogy at a loved one's funeral, here is our guide to writing a good eulogy.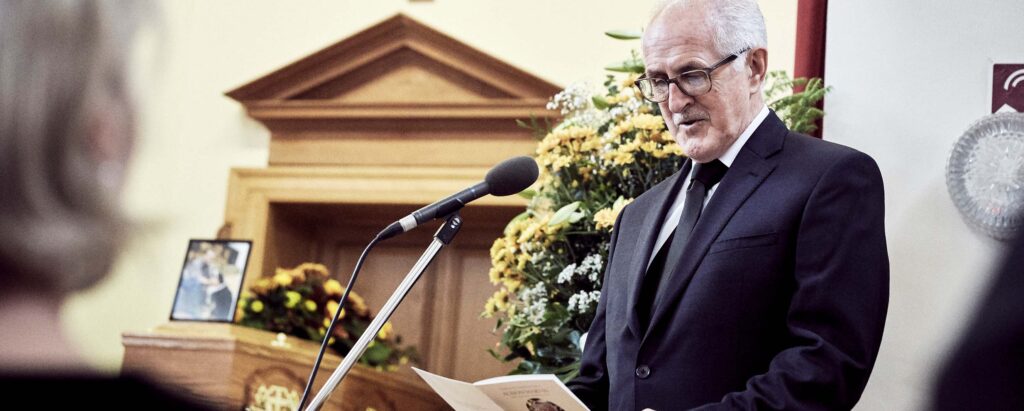 What is a eulogy?
A eulogy, also known as a funeral speech, is a loving way for someone close to the deceased to pay their respects during the ceremony. The speech typically reflects on the life and achievements of the person who has died, paying tribute to their personality and memory.
Who gives a eulogy at a funeral?
Anybody can deliver a eulogy at a funeral service, but it is usually a family member – spouse, partner, child, grandchild – or close friend of the deceased.
How long should a eulogy be?
A good eulogy is usually between 3-5 minutes long, but can be as long as 10 minutes. This should be more than enough time to include everything you want to say about your loved one, but not so long that you risk losing people's attention.
Types of eulogy
Eulogies are very unique. They will depend not only on the person who has died, but also the person writing the speech. There are lots of types of eulogy but these are considered the most common:
Sentimental – If you were close with the person who has died, you may wish to include heart-felt memories and stories which capture the personality of the deceased.
Biographical – If you didn't know the person that well, or you would prefer to keep the eulogy more fact-based, you may wish to include more of a biographical overview of their life.
Sentimental biography – Some people will choose to go for a mixture of the above, fact-based with personal stories or anecdotes scattered throughout.
What should a eulogy include
Depending on what type of eulogy you want to write, you may wish to include any of the following information:
Date and place of birth
Where they went to school
Their close family members
How they met their spouse or partner
Qualifications, awards or personal accolades
A quote from their favourite poem, song or book
Notable community or charitable contributions
Clubs and society memberships
Military service ranking
How to write a eulogy
If you are writing a eulogy for a loved one and struggling to know where to begin, here is a rough outline of how you could approach it:
Talk with close friends and family – Reminiscing with family and friends can be a good way to share stories and reflect on the life of the deceased.
List key points – Spend some time listing all the stories, memories and thoughts that best represent the person's life, and that you think would work well in their eulogy.
Decide on the tone – A eulogy doesn't have to be sad or formal, the best speeches will use a tone that reflects the personality of the deceased. Don't be afraid to add humour if you think it's appropriate, just make sure it won't offend anybody.
Organise your thoughts – You want to make sure your eulogy makes sense and that the audience can easily follow along. For that reason we suggest organising your facts and ideas so that they have a logical flow. It doesn't have to be chronological, it could start from the present and work backwards (reverse chronological), or follow a specific theme.
Start writing – This may seem like the hardest step, but once you have decided on your tone, outline and key points, then the writing process will feel much less overwhelming.
Keep it brief – You'll likely find you have lots to say about your loved one. If possible, try not to make the eulogy too long. You risk losing the sentiment of the speech and also the congregation may find it easier to get distracted.
Don't be afraid to ask for help – If you are struggling, there are always people who can help you. A close friend or family members, even your funeral director, can be good to turn to.
Practice, practice, practice – The more you practice, the easier it'll be on the day. You don't have to memorise it word for word, but it's good to familiarise yourself with the eulogy ahead of the ceremony.
How to deliver a eulogy
As with any public speaking, there are a few "rules" which will help you deliver a great eulogy:
Speak slowly – You may have the urge to rush through the speech, especially if you're feeling nervous, but try and speak slowly so the audience can understand what you're saying. Take a few deep breaths before you begin.
Take pauses – A eulogy is an emotional speech so there will likely be some moments that deserve a moment of silence to allow the audience to take it in, or even laugh if there is humour in it.
Give people eye contact – This will help involve the audience and make them feel like an important part of the speech.
Try not to fidget – It can be really distracting for people listening, so try and stand still. If you are a fiddler then move away anything that might tempt you i.e. a pen or piece of paper.
How to start a eulogy
Even if most people in the audience know you, start by introducing who you are and your relation to the deceased. It can also be a good time to acknowledge the guests in attendance, especially if they have travelled from a distance to be there.
How to end a eulogy
End your eulogy with a brief goodbye statement. This doesn't have to be some big, elaborate line, just something simple that acknowledges that the deceased will be missed.
For more information about the day of the funeral, please contact your local funeral home
Further Reading: Arranging a funeral
Read about how funerals are arranged and what services you can expect to get.