A memorial is a lasting and unique way to remember the life of your loved one. They can act as a physical reminder of the person who has died, and provide a place for friends and family to visit where they can reflect on and grieve their loss.
To help you find the perfect memorial for your loved one, we've put together a short guide about choosing a memorial.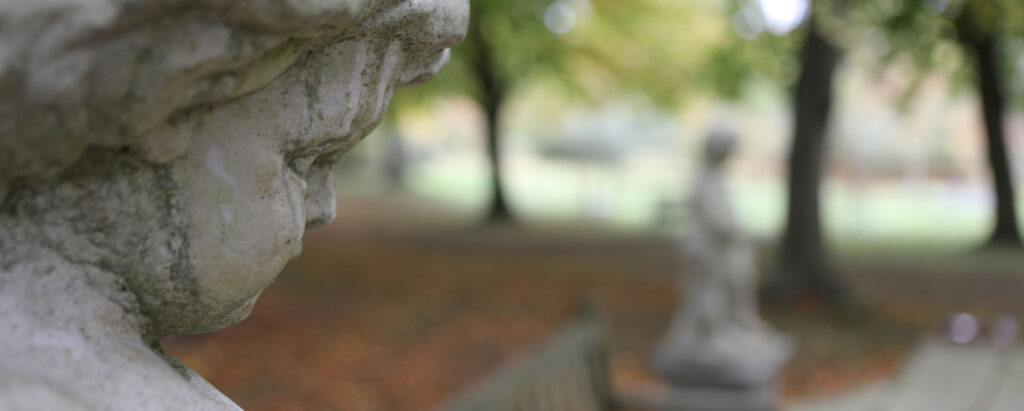 Types of memorial
A headstone, grave marker or gravestone
An engraved memorial bench
A memorial tree
Online memorials
An online tribute – All of our funeral homes offer these free of charge
A memorial wall plaque
Alternatively, if you are considering memorialising your loved ones ashes and need some inspiration, read our guide: What to do with the ashes of a loved one.
What is the difference between a headstone and a marker?
A headstone is an upright monument which marks the burial place of a loved one. They usually feature personal information such as a name, birth and death date, and a quote or saying. A marker, on the other hand, is typically a flat plaque that sits on a stone base – you can only read it from above. It's a smaller option and is usually placed in certain areas of a cemetery or churchyard.
What is the best headstone?
There are a number of different materials you can use for a headstone, depending on your personal preference. These are the most commonly used materials for memorials in the UK:
Granite – granite is a popular gravestone material because it's very tough and durable, it also comes in a variety of colours and finishes. Typically, only non-polished granite is allowed in churchyards
Marble – white marble is considered a popular material for memorials due to its natural beauty. Some churchyards don't allow it, but the stone can be used in most cemeteries
Limestone – different types of limestone can be found around the UK, though the material is not as durable as granite or marble. Most churchyards and cemeteries allow limestone
Sandstone – Yorkshire and Serena are the most common forms for headstones and can be used in both churchyards and cemeteries
Slate – similar to marble, slate is easy to carve and can be used in both churchyards and cemeteries
Please note, the churchyard or cemetery you are using will likely have a number of rules and regulations when it comes to memorial options, especially the material. So be sure to check with your funeral director or local council before making any arrangements.
What type of headstone lasts the longest?
If longevity is a priority when choosing a headstone for your loved one, granite and marble are considered the best options. But which lasts longer granite or marble? Although marble looks stylish, granite is very durable and considered the more hard wearing of the two.
What should be written on a headstone?
Choosing what goes on a headstone is an important part of the process as it's unique to the person who has died. Typically a headstone will include the person's name, birth date, and death date, as well as a short quote or saying, known as an epitaph. Here are some tips for writing an epitaph:
Keep it short and concise – you are usually limited to a few lines
Think about the voice – the epitaph can be written from the perspective of the deceased, a relative, or friend
Be respectful – many people will read these words so make sure they accurately represent your loved one
Make it timeless – these words will be there forever so they need to have longevity
What should I put on a tombstone quote?
Similarly, a tombstone will include personal details such as the name, birth date, and death date, as well as a short message.
How much for a headstone for a grave?
Headstone prices will vary depending on which material you choose, and what you want to put on it. On average slate tends to be the most expensive with granite being the cheaper option. Below is a rough idea of pricing structure based on the types of material:
Granite – £
Marble – ££
Limestone – ££
Sandstone – ££
Slate – £££
How long after a burial can you put up a headstone?
Every churchyard and cemetery is different, but generally you have to wait around six months following a burial funeral service, so the ground has time to settle. This does not apply to cremation memorials. Your funeral director will be able to advise you.
If you'd like any help or advice, please feel free to get in contact with your local funeral director and they would be happy to discuss the options with you.

Further Reading: Arranging a funeral
Read about how funerals are arranged and what services you can expect to get.