Keeping Merseyside Churchgoers Safe as They Return to Mass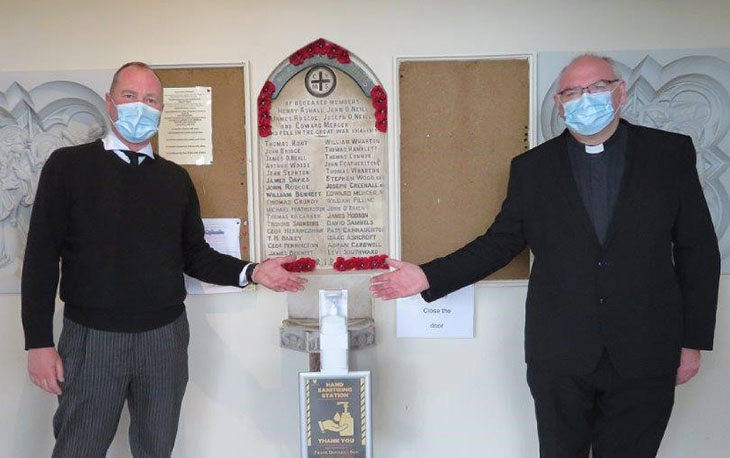 Frank Dooley & Son Funeral Directors has stepped in to help a church in St Helens to re-open its doors safely by donating a hand sanitising unit to support the local community and encourage attendance as the COVID-19 lockdown eases.
Kieron Dooley, Senior Business Principal at Frank Dooley & Son, designed the lightweight unit to be set up easily before and after mass at St Austin's Roman Catholic Church in St Helens.
Kieron said: "Our funeral teams have always had a close relationship with the local clergy and we wanted to ensure the safety and care of people visiting places of worship.
"We hope the regular and continued use of the hand sanitiser station will provide a degree of reassurance. Safety is paramount to those of us involved in social and community welfare."
Father Martin Kershaw, Parish Priest at St Austin's, who displays the sanitiser outside St Austin's before mass, said: "The presence of the sanitiser inspires confidence and a feeling of being safe in our congregation. We have already had comments from people saying how easy it is to use.
"St Austin's and Frank Dooley & Son work closely together to support our community. They're a respected funeral home and are always willing to help."
Kieron had a second unit manufactured which team members at Frank Dooley & Son store in their vehicles and set up at funeral services when needed.
Kieron concluded: "It is to everyone's benefit that we all assist in the fight against this terrible virus.
"If we are able in some small way to play a part in the recovery of our community, region and nation, then we feel we will have achieved our goal."
Spring Window Shines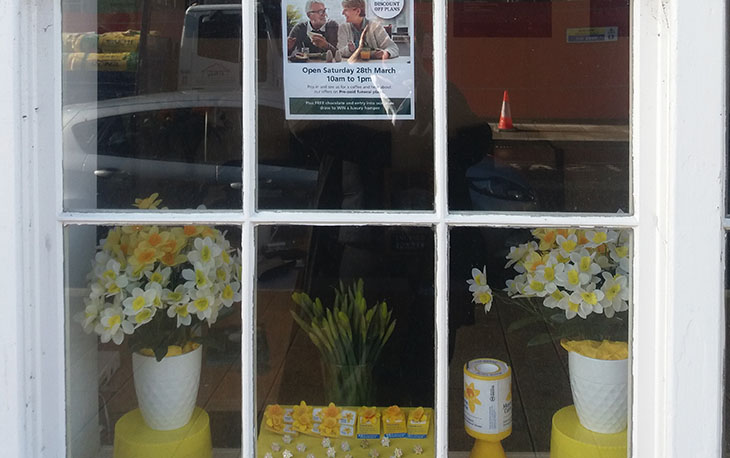 Spring sprung at Shields of Donaghadee Funeral Directors when they assembled their beautiful March window display.
The display celebrated the work of Marie Curie and their Great Daffodil Appeal, Marie Curie's biggest annual fundraising campaign. Every March, millions of people across the UK support this fundraising event by giving a small donation to wear a daffodil pin.
Delivering Sweet Treats to Key Workers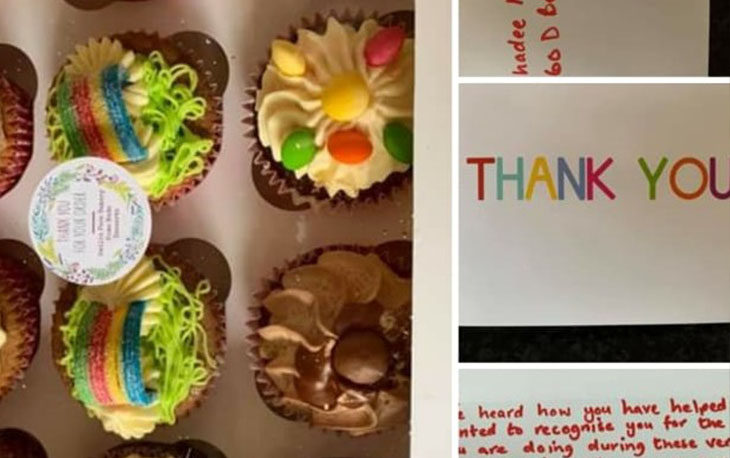 Judith from Shields of Donaghadee visited key workers in her community to deliver sweet treats as a small token of their appreciation for all the work they do to support local people.
Northfield care home, Killard House School and Donaghadee Resource Centre were the recipients of delicious cupcakes.
The principal of Killard House School who provide support for children and young people with additional special educational needs feedback that the donation made her day. We are sure this was a nice surprise for the teaching staff who worked tirelessly during the coronavirus pandemic to allow frontline parents to continue working.
The Gift of Music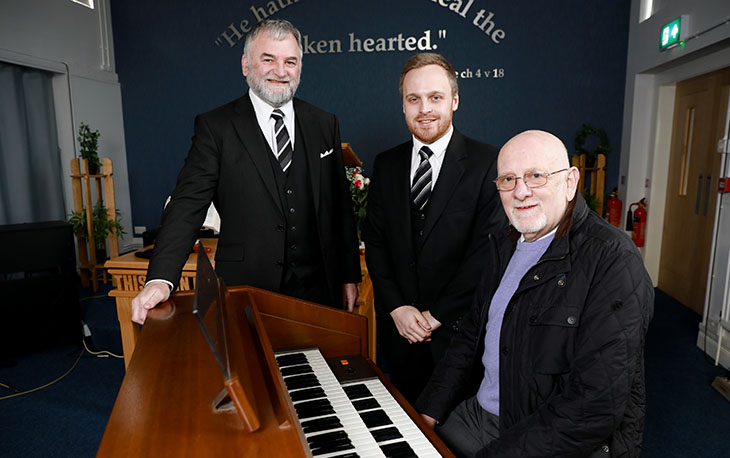 Local funeral directors Ellison Sloan and Nathan Murray of Joseph Poots & Son visited Bethesda Fellowship in Portadown to present Minister Tom Eakins with a new organ to assist the congregation with their worship.
The presentation coincided with the return to Joseph Poots and & Son by Ellison Sloan. With 38 years in the business. Ellison took a break from the funeral industry and took a different role all together driving for Almac a local firm. Although kept busy, Ellison decided to follow his heart and return to his first love of helping the local community at times of distress and bereavement.
Ellison said: "I'm very happy to be back at Joseph Poots & Son. I see it more as a vocation rather than just a job as, even when in the short time that I was not employed at the company, I still helped people in need in the local community.
The Eternal Flame Shines Bright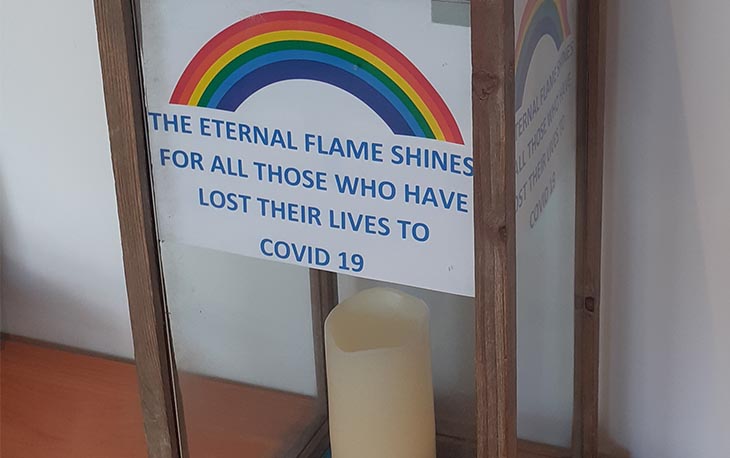 Karen Rattigan from Pinks Funeral Directors in Hamsey Green has placed an artificial candle in the window of her branch and called it the 'Eternal Flame'. She has decorated the candle holder with a rainbow and added the words 'The eternal flame shines for all those who have lost their lives to COVID -19.'
Mayor Visits Local Businesses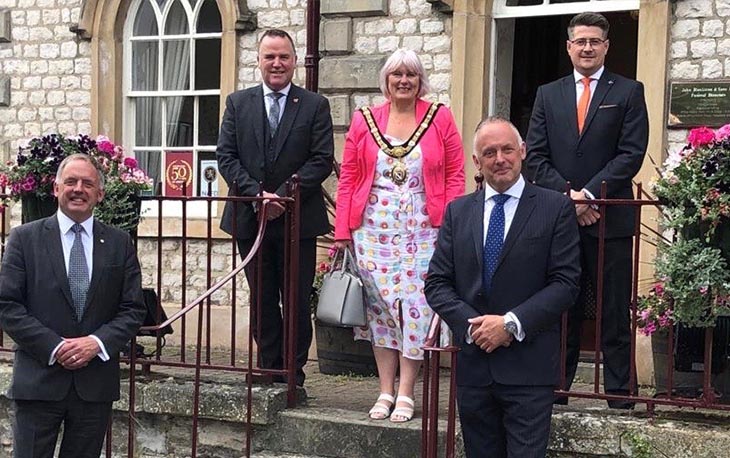 On the 21st July John Blenkiron & Sons Funeral Directors in Richmond had an impromptu but very welcome visit from the Mayor of Richmond, Councillor Lorraine Hodgson.
A member of the Community and Resources Committee and Town Council representative for a number of local organisations, Councillor Hodgson was visiting local businesses for a general catch up to see how her constituents had been coping during the coronavirus pandemic.
Councillor Hodgson's term in office thus far has been unprecedented so the team appreciated her taking the time to enquire after their wellbeing. As key workers the funeral directing team were able to share valuable insights into the processes, they have put in place to keep not only themselves but the public safe.
Donation of Essential Items Supports Local Care Home Residents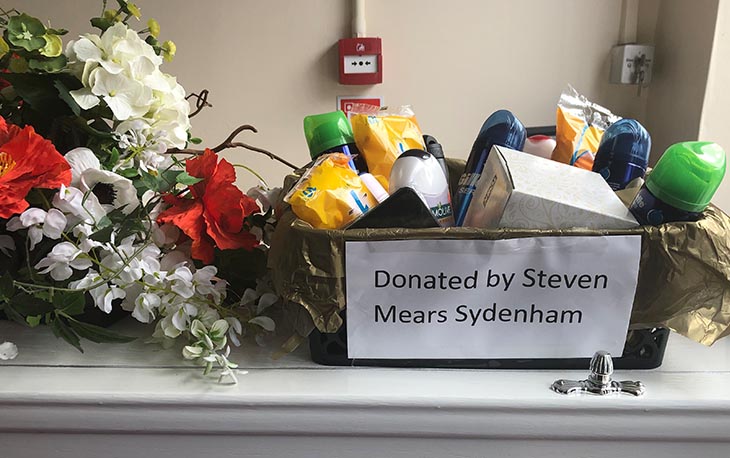 Angela and Janice from Steven Mears Funeral Directors in Sydenham visited Pear Tree Care Home with a donation of essential items for their residents.
The hamper included razors, shaving foam and shower gel which will be gratefully received since many family members who would normally bring such items in have been unable to visit their loved ones.