Cake Sale Troop Aid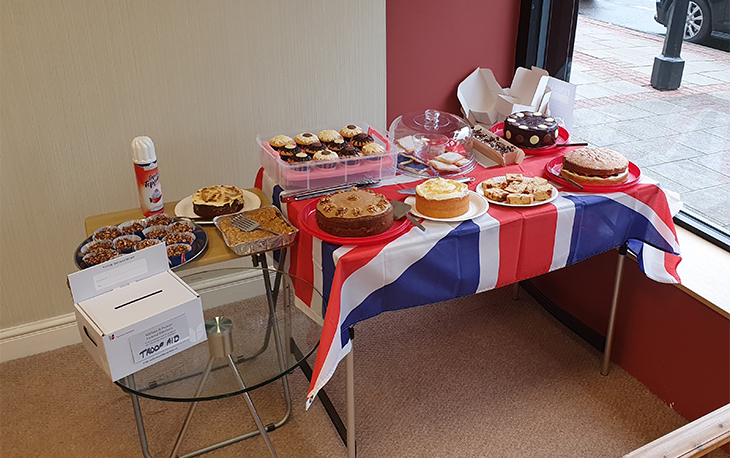 Emma Welch, a Funeral Arranger at William H Painter in Birmingham, organised a bake sale on Friday the 25th of June. This was the day before Armed Forces Day and was to raise funds for Troop Aid, who create grab bags for wounded servicemen and women. The bake sale ran between 10am and 4pm and was held at Emma's branch, William H Painter, Solihull.
Emma has a personal attachment to this initiative as she has a lot of respect for our military and has already worked with Troop Aid in the past. William H Painter had previously hosted coffee mornings for the charity before Covid. This time Emma went for a bake sale as it was easier to control numbers and clean and implement social distancing rules.
Emma organised this event by sending out invites to all her key contacts and advertised in the window to make people aware.
The bake sale consisted of 15 different cake choices with people dropping by to buy a cake and take it away. Most of the cakes were gone by the end of the day! Emma baked most of the cakes herself with the help from friend Pam at Troop Aid.
Emma said: "I hope the bake sale raised both money and awareness for a charity who continues to do amazing work looking after our injured troops"
Emma and her team at William H Painter are continuing to get involved supporting Macmillan Cancer Support next with another bake sale on the 23rd of September. As well, as the continued support for Troop Aid by donating clothing for the grab bags.
William H Painter raised an impressive £176 for Troop Aid over the course of the day!
If you would like to continue to donate, please follow this link to the website:
https://uk.virginmoneygiving.com/donation-web/charity?charityId=1001536&frequencyType=M&utm_source=extbtn&utm_campaign=donatebtn
William H Painter Collection Point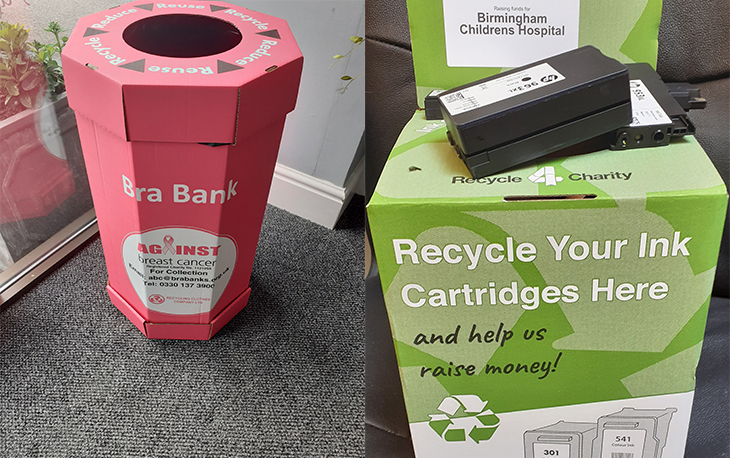 Funeral Arranger, Emma Welch, has been collecting ink cartridges at all William H Painter branches in aid of Birmingham Children's Hospital Charity.
Birmingham Children's Hospital are working with Think-inks who are a recycling organisation. To raise donations for their charity for every item which is recycled. Think-Inks donate up to £5 for each used genuine printhead ink cartridge that is received and recycled.
For more information on the charity visit their website:
William H Partners have continued their charitable efforts by also having a bra bank at each one of their branches. This initiative is to raise money for Against Breast Cancer, with every tonne of bras collected, they receive £700 to fund their research.
William H Painter have continued to raise awareness by putting themselves down as a location on the Against Breast Cancer's website and putting up posters in all the branches. Emma has advertised on William H Painter's Facebook page urging for the public's support in the ongoing collection.
Emma Welsh a Funeral Arranger at William H Painter has spoken about the branch's charitable efforts
She said: "They have had a good response with 7 or 8 boxes (ink and bras) ready to send at the moment"
The response from colleagues and the public has been incredible with all branches taking part in both collections.
For more information on how you can donate to the collection visit: https://www.againstbreastcancer.org.uk/recycling/bra-recycling/
Knitted Hearts Given to Families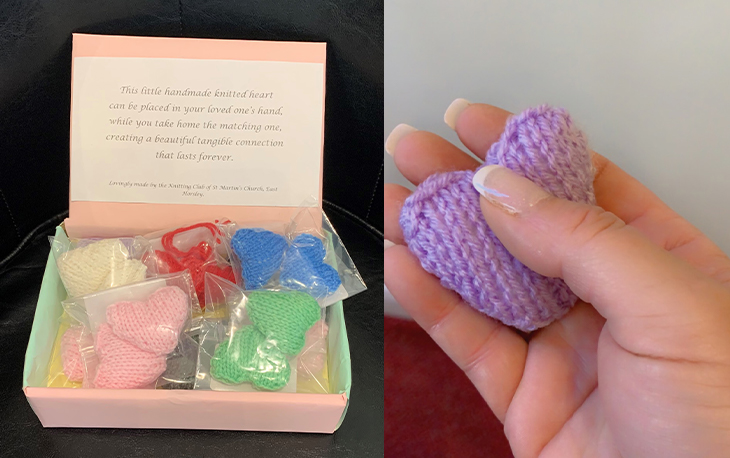 When Funeral Arranger Julie Brown was speaking to local minster Reverend Reno Pittarides, regarding a friend's funeral she was arranging. It was mentioned the hospital had placed a heart in the hand of the deceased and had given the other to his wife.
Julie said, "this had given his wife great comfort and she held it in her hand every night when going to bed".
Julie thought this would be a lovely thing to offer out families when they came to the Chapel of Rest.
St Martins Knitting Club at St Martin's Church, East Horsley agreed to help creating pairs of knitted hearts for James and Thomas Funeral Directors. The hearts were designed to be just the right size to fit in the palm of your hand and are very soft. Julie and her colleagues can now offer out these matching hearts to families at the James & Thomas Funeral Directors in Horsley.
Julie has recently displayed the knitted hearts at her branch with families saying they appreciated the gesture saying it was "a lovely idea".
James Brown & Sons' crochet club reunites to remember much-loved member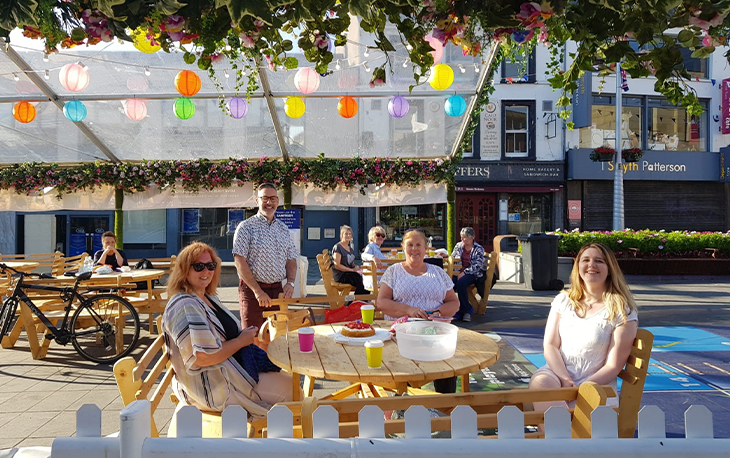 Terry Weir, Funeral Director of James Brown & Sons Funeral Directors, was finally able to unite with the Dunmurry funeral home's close-knit crochet club after social distancing restrictions kept them apart and remember one of its long-time members who passed way.
Terry created the club in 2016 as part of community outreach, running every other Tuesday evening in a meeting room at the Dunmurry funeral home.
He said: "Some members joined from my original notice, others came through recommendations, and some through funerals that we carried out. The club has done exactly what I hoped for and brought the community together."
The club grew to more than 15 regular members over the years. However, sessions were postponed when lockdown restrictions came into effect in early 2020.
The members kept in touch through WhatsApp and were recently able to meet up near The Wool Nook, a shop run by club member Susan McGrath, to remember and reflect on the life of Heather Smith over tea and coffee. She had been with the club for three years.
Terry said: "Heather was a talented knitter and crocheter who helped and inspired other members of the club with their projects. She often donated crocheted and knitted baby clothes for our fundraising events, as well as to hospitals for premature babies to wear.
"She was always ready to lend an ear over a cuppa and piece of cake and we will all miss her very much." The group plan to hold a memorial for Heather and look forward to more crochet over the summer.
John Gray & Co feeds families with weekly Manna Table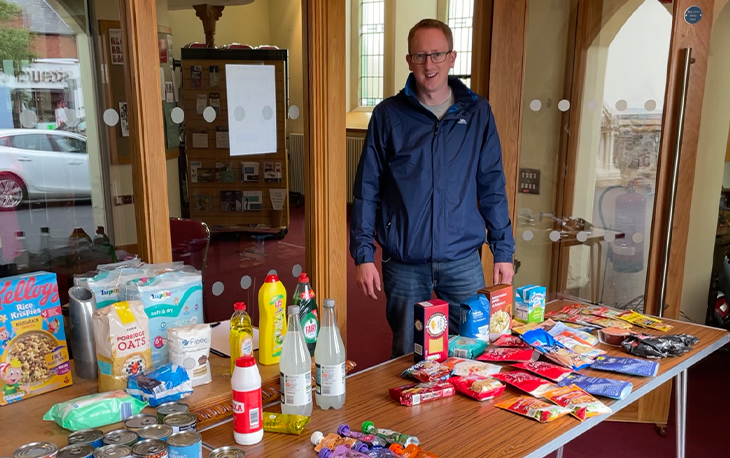 A free to all, no-questions-asked food table run by Barbara Wilson, Senior Funeral Arranger at John Gray & Co Funeral Directors in Holywood, has helped feed nearly a hundred families facing hardship during the Covid-19 pandemic.
When John Gray & Co became one of the only businesses in the area able to remain open during lockdown, its donation point for those in need in Holywood received too many items to store. This prompted Barbara to set up a 'Manna Table' at High Street Presbyterian Church every Tuesday.
She said: "We've always collected donations for people but received substantially more over the past year, possibly due to many local businesses becoming unable to do the same during lockdown.
"The Manna Table is easy to access and has a non-judgemental atmosphere, where people from all walks of life can take what they need to ease their struggling, including food and various essentials."
John Gray & Co places collection buckets inside its premises for members of the community to contribute food, toiletries and clothing. These are routinely collected by Rev Jimmy Warburton of the High Street Presbyterian Church, as well as local business owner, churchman and community worker Graham Speers, who distribute them to charities and collection points, such as Storehouse.
However, Barbara noticed the buckets weren't enough to contain all of the donations being received as lockdown restrictions came into effect in early 2020.
She said: "They were mounting higher and higher inside our branch as more people became aware of the donation point."
As the pandemic continued, Barbara asked Rev Jimmy about utilising the High Street Presbyterian Church's prominent location as a place to easily distribute the donations. He met the plan with enthusiasm, so Barbara set about designing posters to advertise the Manna Table, which she named after food provided by God to the Israelites during their exodus in the Bible.
Barbara, Graham and Rev Jimmy have received an overwhelming response to the initiative, with a growing number of people arriving every Tuesday from 10am to 1pm, in addition to colleagues, family and friends being on-hand to help.
Rev Jimmy said: "The table is very straightforward; we open the church doors, hand out bags to fill and put up a sign inviting people to come and take whatever they need. No questions asked.
"Word has spread throughout the town about the Manna Table and a lot of local people are making use of it. It has been received extremely well, with many people also wanting to donate or help in some way. We hope it continues to develop and that we are able to support anyone who is going through financial hardship."
Several other churches in the area including St Colmcille's Church, First Holywood Presbyterian, Holywood Parish Church and Holywood Baptist Church have made announcements about the Manna Table to their congregations.
Barbara concluded: "I hope to keep this going for a very long time with the support of my colleagues at John Gray & Co and the local churches."
Green-fingered David Calder brings hedges back to life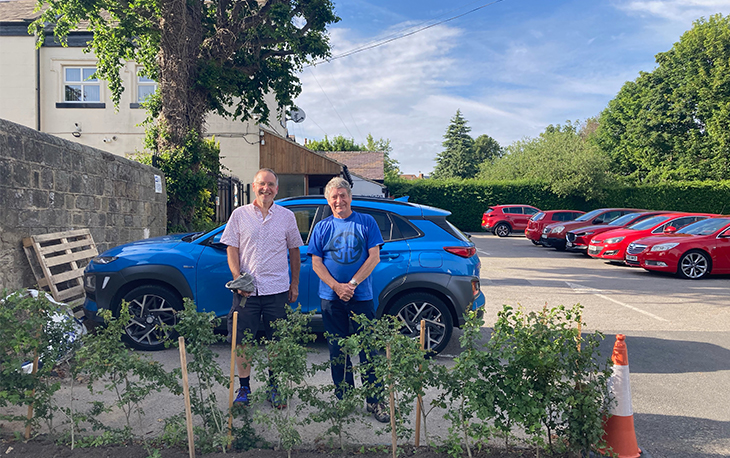 David Calder of Wm Dodgson & Son Funeral Services, Moortown, Leeds, restored what he believes to be a 200-year-old hedge after traffic pollution and trampling caused it to wither.
He replaced the destroyed hedge at the Corner House Club, the local social club, with a variety of beautiful plants, including holly and blackthorn to ward off vandals.
He said: "Our funeral home is situated a short walk from the Corner House Club, of which I'm a member, which has a vibrant hedge that separates the premises from the road. However, being a gardening fanatic, I've noticed it slowly disappearing over recent years.
"I could tell this hedge was around two centuries old by the way it bends to the ground and has been cut at the base; an old technique known as root welting that keeps animals from passing. It was also being suffocated by the busy traffic nearby, as well as trampled on by passers-by. I therefore ordered shrubs including hornbeams and hawthorns to restore the beautiful sight and keep it from being vandalised."
David's passion for gardening grew while working on a farm for three years in North Yorkshire after leaving secondary school. Since then, he has helped friends, family, neighbours and local businesses bring their gardens to life through his love for horticulture, having recently developed a garden plan for Holly House Vets.
David also rescues plants and trees from being destroyed in an effort to preserve the environment, including 70 ash trees and a dozen hollies from a paved-over garden near his home.
He approached the Chairman of the Corner House Club with his ambition to restore their old hedge and was immediately met with enthusiasm.
David said: "At first they considered erecting posts, but the benefits of a fully-grown hedge far outweigh posts both in beauty and practicality. The club was therefore more than happy for me to crack on.
"Hedges are so affordable at just roughly £3 for a thorn bush. Although it requires patience and determination to reap their benefits, they're a much more sustainable alternative to fences."
It took David nearly three years to nurture and complete the hedge, which will now be able to grow on its own and serve as a beautiful yet effective barrier again.
Anthony Treen, Chairman of the Corner House Club, said: "David is an active member of our club and helps out with keeping our garden looking pristine. His latest contribution has been to establish a new hawthorn hedge for our car park, which looks fantastic."
David has been asked to join the Corner House Club's gardening team and now plans to revamp the garden area with flowers to complement the reborn hedge.
He concluded: "The hedge will take time to grow to its full potential, so while I'm keeping an eye on it, there's lots more I can do for the club."