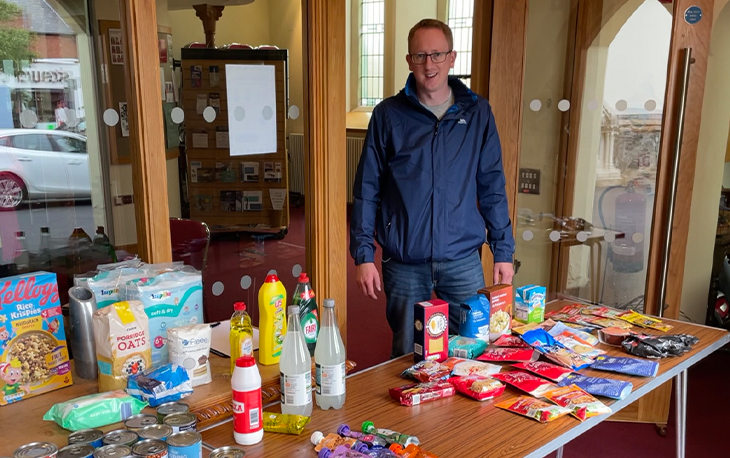 A free to all, no-questions-asked food table run by Barbara Wilson, Senior Funeral Arranger at John Gray & Co Funeral Directors in Holywood, has helped feed nearly a hundred families facing hardship during the Covid-19 pandemic.
When John Gray & Co became one of the only businesses in the area able to remain open during lockdown, its donation point for those in need in Holywood received too many items to store. This prompted Barbara to set up a 'Manna Table' at High Street Presbyterian Church every Tuesday.
She said: "We've always collected donations for people but received substantially more over the past year, possibly due to many local businesses becoming unable to do the same during lockdown.
"The Manna Table is easy to access and has a non-judgemental atmosphere, where people from all walks of life can take what they need to ease their struggling, including food and various essentials."
John Gray & Co places collection buckets inside its premises for members of the community to contribute food, toiletries and clothing. These are routinely collected by Rev Jimmy Warburton of the High Street Presbyterian Church, as well as local business owner, churchman and community worker Graham Speers, who distribute them to charities and collection points, such as Storehouse.
However, Barbara noticed the buckets weren't enough to contain all of the donations being received as lockdown restrictions came into effect in early 2020.
She said: "They were mounting higher and higher inside our branch as more people became aware of the donation point."
As the pandemic continued, Barbara asked Rev Jimmy about utilising the High Street Presbyterian Church's prominent location as a place to easily distribute the donations. He met the plan with enthusiasm, so Barbara set about designing posters to advertise the Manna Table, which she named after food provided by God to the Israelites during their exodus in the Bible.
Barbara, Graham and Rev Jimmy have received an overwhelming response to the initiative, with a growing number of people arriving every Tuesday from 10am to 1pm, in addition to colleagues, family and friends being on-hand to help.
Rev Jimmy said: "The table is very straightforward; we open the church doors, hand out bags to fill and put up a sign inviting people to come and take whatever they need. No questions asked.
"Word has spread throughout the town about the Manna Table and a lot of local people are making use of it. It has been received extremely well, with many people also wanting to donate or help in some way. We hope it continues to develop and that we are able to support anyone who is going through financial hardship."
Several other churches in the area including St Colmcille's Church, First Holywood Presbyterian, Holywood Parish Church and Holywood Baptist Church have made announcements about the Manna Table to their congregations.
Barbara concluded: "I hope to keep this going for a very long time with the support of my colleagues at John Gray & Co and the local churches."