Dying Matters Awareness Week 2021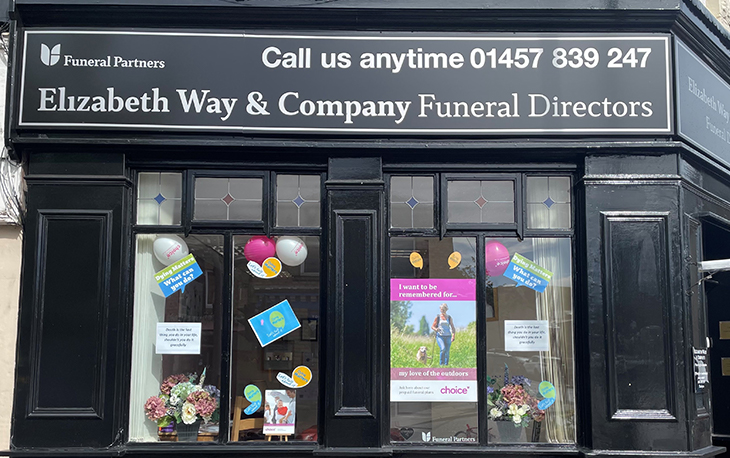 The team at Elizabeth Way & Co in Mossley created an awareness window for Dying Matters Awareness Week.
During Dying Matters Awareness Week, we encourage positive conversations and future planning. The 2021 theme was 'In a good place to die'.
There is no right or wrong place to die; it will be different for everyone. But the pandemic has proven that it is more important than ever for families to think about it, talk about it and to plan for it.
Mental Health Awareness Week 2021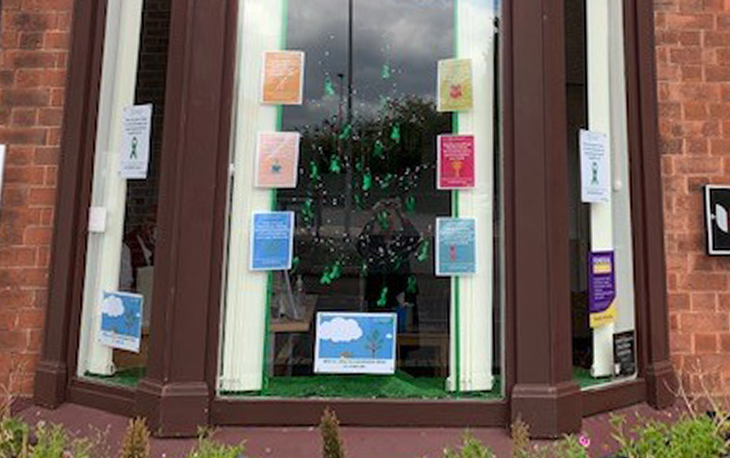 The team at Roy Quinton Funeral Directors created an awareness window for Mental Health Awareness Week.
Mental Health Awareness Week is an annual event when there is an opportunity for the whole of the UK to focus on achieving good mental health.
Charity Walk for Sands
Funeral Arranger Melissa Harbidge is embarking on a 100k walk for Sands the stillbirth and neonatal death charity this June.
Melissa is taking herself out of her comfort zone to complete the challenge for a charity very close to her heart.
Sands works to support anyone affected by the death of a baby and improve the care bereaved parents receive.
To find out more or sponsor Melissa visit her fundraising page here:
Helping tackle poverty and isolation in South Lanarkshire with tablet donations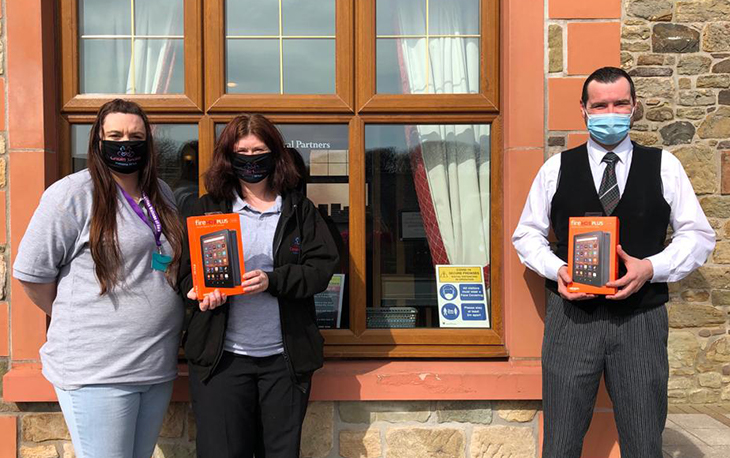 Ian Brown Funeral Directors in Lanark, South Lanarkshire, has donated Amazon Fire tablets to a charity supporting local residents who live in poverty and have become isolated as a result of the Covid-19 pandemic.
The Carstairs Junction Welcome All Hub (CJWAH) is a charity run by volunteers in the nearby village of Carstairs Junction, where residents across the county can drop in and use donated resources such as food and clothing, as well as technology to stay connected with loved ones.
Funeral Director Joe Fletcher said: "Having technology and internet access is essential in the modern world, whether it's to look for jobs, receive support or socialise, yet it's something a large number of people can't afford.
"We see first-hand the effects the pandemic has had on residents in Carstairs and other parts of South Lanarkshire, particularly on those who have lost loved ones. We therefore hope people can use these tablets to stay connected with friends and family no matter their circumstances."
Ian Brown Funeral Directors has supported the CJWAH since its foundation in 2018. The organisation received charity status in March 2020 and now operates from a former community flat, which is generously rented out for £1 per year by South Lanarkshire Council.
After seeing the effects of the pandemic on Carstairs and its surrounding areas, Ian Brown Funeral Directors used its community fund to order two Amazon Fire tablets and help the CJWAH address poverty and isolation in Carstairs Junction and the rest of the county.
Joe said: "From people being furloughed to businesses closing, local communities have been hit hard by the pandemic, and the CJWAH's work couldn't be more important to help address it."
Dot Watson, Community Development Coordinator at the CJWAH, said: "The donations made by Ian Brown Funeral Directors will be a significant boost to people looking for ways to reach their loved ones during this pandemic when they have little means of doing so on their own.
"It will also provide a way to seek employment and support as well as comfort, with these tablets coming with games for both parents and their children to enjoy."
Donations can be made to the Carstairs Junction Welcome All Hub by contacting Dot Watson at carstairsjunctionwelcomeallhub@hotmail.com or 01555 668854.
Online tributes surge sees Northern Irish funerals raise over £200,000 for charity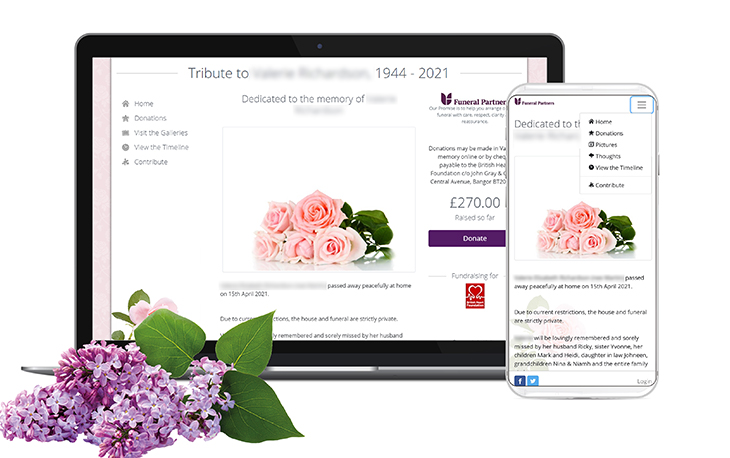 Funeral Partners funeral directors across Northern Ireland have helped families raise over £200,000 in memory of their loved ones thanks to a surge in online donations.
John Gray & Co Funeral Directors in Bangor, Holywood and Newtownards has created more than 134 virtual tribute pages on behalf of families through MuchLoved, the online tribute platform since its partnership with the charity began in July 2020.
Barbara Wilson, Funeral Arranger at John Gray & Co, said: "MuchLoved gives families the option to have us facilitate online donations to a charity of their choosing, often in lieu of traditional gifts like flowers from friends and relatives. Collectively, these donation pages have received over £56,000.
"Friends and family can also post the funeral notice, photos, videos and messages to their loved one's tribute page no matter where they are in the world, which has helped people come together and mourn during this terrible pandemic."
John Gray & Co was inspired to start offering MuchLoved pages to families when the Covid-19 outbreak made traditional donations like flowers and cheques difficult to process.
Barbara said: "We used to send donated cheques and gifts to charities by post, but this became difficult to do as the mail faced logistical problems and social distancing restrictions came into place.
"Charities are in need of funds more than ever and we know a number of other Northern Irish funeral directors in Funeral Partners have had success with MuchLoved pages. We've therefore been offering them to families since July and the uptake has been incredible."
John Gray & Co has so far helped families raise over £8,300 for the Alzheimer's Society, £6,800 for Marie Curie, £6,200 for Cancer Research UK and £4,300 for Macmillan Cancer Support, as well as donations for 33 other charities.
Bairds of Antrim Funeral Directors has helped their clients raise more than £51,000 through MuchLoved tributes, while Mulhollands Funeral Directors in Carrickfergus and Larne has helped raise over £46,000.
Richard Baker, Funeral Partnerships Manager at MuchLoved, said: "MuchLoved are delighted to be working with John Gray & Co, and the rest of the dedicated Funeral Partners teams in Northern Ireland, providing a service that not only has benefited the aforementioned charities but also has given a valuable bereavement service to families by way of an online tribute page.
"MuchLoved has worked hard to provide additional support and tools for our clients over the last year to be able to help alleviate some of the distress caused by the restrictions imposed by the pandemic. It's great to see how dedicated, adaptable and enthusiastic the Funeral Partners teams in Northern Ireland have been making the most of what we are able to offer."