Mother's Day was a chance for sons and daughters across the Funeral Partners family to reflect on the inspiration their mums have provided as both parents and colleagues. 
A professional yet special relationship with mum as manager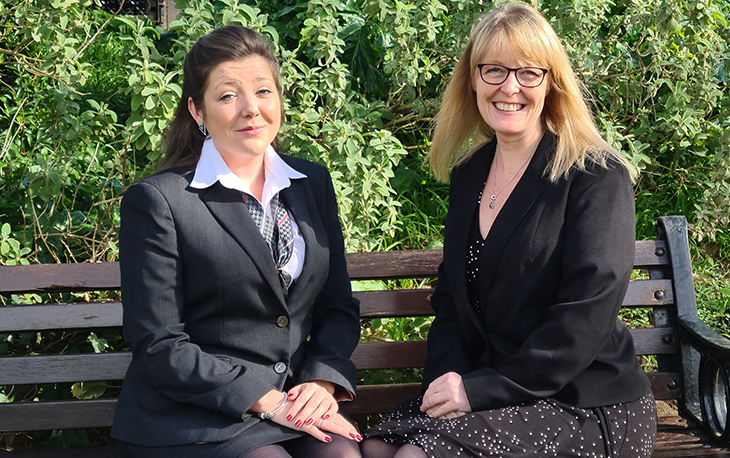 Sandra Murphy, Area Development Manager (ADM) for the South West Region, spent a number of years working in the care sector before joining Funeral Partners, a career path recently followed by her daughter Jade Cross after being inspired by her mother's advice.
Sandra said: "Jade and I worked for the same care provider for many years before I left for Funeral Partners. Then when she also contemplated moving on, I knew her skills would be perfect for the funeral industry."
Jade added: "I always fundamentally saw funerals as care, which was confirmed by my mum's experiences. So, after having children, I decided to step back as a deputy manager and become a funeral arranger at Maunders Funeral Service in Paignton."
Maunders is one of several funeral homes managed by Sandra in her capacity as ADM, with both her and Jade choosing to work in their local area of Torbay. However, despite being a ten-minute drive from each other's workplaces, the pair maintain a professional work relationship.
Sandra explained: "We have a dry sense of humour and banter. But other than that, I treat Jade like any other colleague to keep us both focused on our jobs."
Jade continued: "It's nice to have someone nearby who will always understand where you're coming from, but if I have any questions or problems I go to my line manager like everyone else."
Home life is just as sacred for Sandra and Jade, with work being a rare topic of discussion at family gatherings and events.
Sandra laughed: "We often don't have time to bring up work with the grandchildren running around!"
Jade said: "We go completely back to mother-daughter mode outside of work, which makes what we have feel very special."
Sandra and Jade are inspired by similar qualities of determination, stubbornness and resilience in each other, which Jade attributes to Sandra raising four daughters as a single mum.
She said: "As the eldest child I had to be strong like my mum, so we both became a real team as I grew up. I've always looked up to her."
The close bond and shared work ethic between Sandra and Jade make Mother's Day very special, which Jade's children have decided to create a decorative 'grandma' plaque for this year.
Sandra laughed: "I have a 'shrine to nanny' that grows every year."
Becoming a caring funeral director thanks to an inspirational mother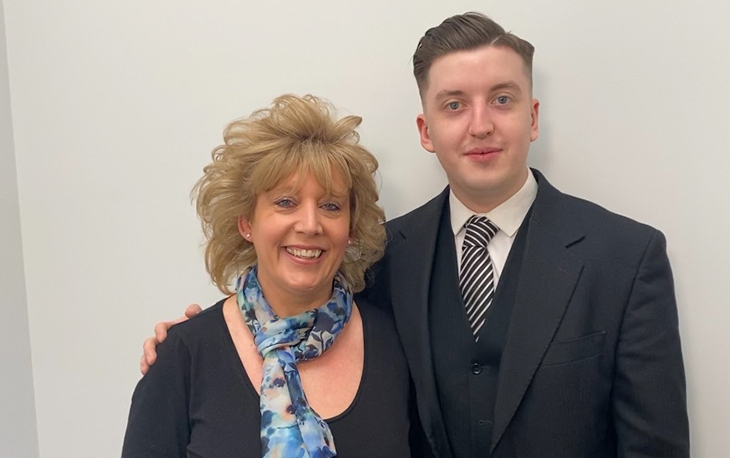 Shona Sim joined her family funeral business Sim & Son as a funeral arranger and was followed by her youngest child Blair Sim as a trainee funeral director, transforming the Glaswegian funeral home into a truly family affair.
Blair was three years old when his dad Steven Sim founded Sim & Son and grew up learning what it meant to be a funeral director through his mother, who worked in the civil service, as well as his father.
Shona said: "I used to tell Blair 'daddy has a flying car he uses to take people to heaven'. As we spoke, his growing understanding created a sense of empathy and compassion."
Blair believes his mother's positive traits have rubbed off on him over the years. He said: "My mum's always been a people person and can get invested in the wellbeing of others, which is very important when working in the funeral industry."
Blair's caring personality shone at the age of 16 when he decided to undertake work experience at Sim & Son after his mum joined the business. He said: "I really got to grips with it all and helped out more and more as I got older."
His older sisters Hayley and Morgan also lent a hand to their parents with the day-to-day running of the funeral home. Shona said: "They all have a great work ethic. When Hayley passed her driving test at 17, she drove the hearse while Morgan and Blair would help wash the cars."
Blair decided to join Sim & Son as a trainee funeral director in 2020 while studying for a degree in business management and has found his mother's support invaluable.
He described: "I'm often out learning how to conduct funerals with my dad, and when I return to the funeral home I get to connect with someone very similar to me."
Shona added: "We're very compassionate in caring for families and we love our jobs."
Being a close family, Blair and his sisters united for Mother's Day to show Shona how much she means to them. Blair concluded: "She works so hard for us and deserves our appreciation all the time."