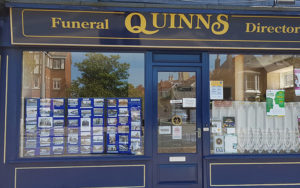 The window display at the Hoylake branch has been receiving more attention than usual thanks to a charming display of photos depicting Old Hoylake and Quinn's funeral home premises from years gone by. Some places are still recognisable today whilst others have changed completely.
The area has a rich and interesting history with nautical and even royal connections! The history of Hoylake, Hyle or High-lake as it has been known can be traced back to its days as a safe anchorage for ships waiting to enter the Port of Liverpool or embark overseas.
One memorable event, from which the area gets its name, was the departure from Hoylake, in August 1689, of William III's troops on an expedition to Ireland against the Jacobite supporters of James II. In the following year, 1690, William himself set sail from Hoylake to fight the Battle of the Boyne.
Quinn's Funeral Directors is proud to have served the local communities of Greasby, Hoylake and West Kirby for nearly 50 years.