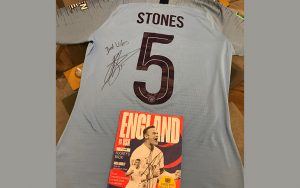 In the lead up to Christmas Funeral Director Brett Benton from A N Abraham was approached to see if he could help with a charity raffle by donating some items.
Once Brett learned that the items were to be raffled to raise funds for a local school that supports children from 11 to 19 with severe, complex or profound and multiple learning difficulties he jumped at the challenge.
Earlier in the year Brett had the pleasure of meeting John Stones who offered an England programme and his shirt from the Manchester City v Fulham match, both signed.
Brett was only too pleased to be able help as was John and in total the auction raised £1200 for Oakfield Park School in Ackfield.
These much needed funds will be used to secure additional resources to help the young people in their daily activities.
Thank you to John Stones for his generosity and to Brett and the team for all their hard work and dedication for such a great cause.