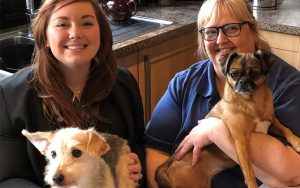 The team at ML Williams helped to raise awareness and funds for their local dog charity over the 2018 Christmas period.
At their annual Christmas Memorial service a total of £120 was raised for Islay Dog Rescue which is a non-profit organisation who work with various volunteers to help vulnerable dogs learn to feel loved and protected again.
From a small holding in Cumnock, Ayrshire, Lorraine Jardine and Richard Thomson have been rescuing and rehoming dogs from across the UK for almost 8 years.
With great thanks to the kindness and generosity of client families, the dogs will to be one step closer to finding their new loving home.