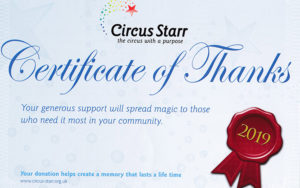 In October 2018 J & L Sturney Funeral Directors proudly supported Circus Starr with a donation in support of their annual Southampton show.
A donation of £100.00 was made by J & L Sturney which enabled local children to attend the show, Funeral Arranger Helen Osment also made a personal contribution of £50.
Helen said: "One of the local Grandmother's took her Grandson and said it was fantastic! she said her Grandson loved and laughed every moment."
Circus Starr are a not-for-profit organisation providing free tickets for children with additional needs or families in difficult circumstances. Performances are relaxed and inclusive with the children being free to express themselves and have fun!
To find out more and to support this great charity visit their website https://www.circus-starr.org.uk/