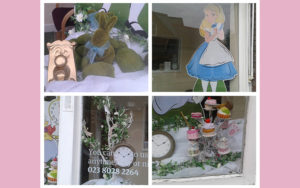 This fabulous window display was the creative mastermind of J & L Sturney' s very own Queen of Hearts, Funeral Arranger Helen Osment.
The inspiration for the window came from the personal connection to Lyndhurst has with the much-loved children's literary classics 'Alice in Wonderland' and  'Alice Through the Looking Glass'.
Alice Pleasance Hargreaves (née Liddell) was, in her childhood, an acquaintance and photography subject of the author Lewis Carroll and is thought to be the inspiration for the fictional Alice. For most of her life, Alice lived in and around Lyndhurst in the New Forest and her ashes were buried in the graveyard of the church of St Michael and All Angels Lyndhurst.
A magnificent gilt framed mirror, which would have hung at Cufnells House in Lyndhurst at the time that Alice lived there can be found on display at the New Forest Heritage Centre, Lyndhurst, a free museum sharing the history of the New Forest.