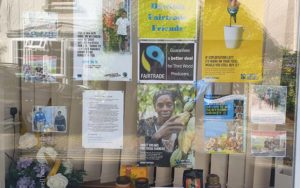 J H Way Funeral Services showed their support for Dawlish Fairtrade Friends with their June window display.
Dawlish was one of the first towns in the county to gain Fairtrade status back in 2008. Fairtrade changes the way trade works through better prices, decent working conditions and a fairer deal for farmers and workers in developing countries.
Dawlish Fairtrade Friends are a small group in Dawlish that help raise funds and awareness of Fairtrade through events such as entertainment evenings, fetes, competitions, and fortnightly meetings.
If you would like to find out more about making a difference to the lives of the people who grow the things you love by making trade fair visit Dawlish Fairtrade Friends on Facebook.