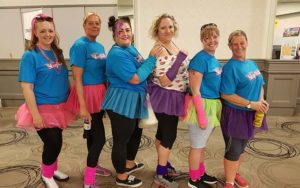 Six of our amazing team members from the South West area got together for the region's biggest girls' night out in aid of Rowcroft Hospice.
Sarah Lockton from Torbay & District Funeral Service, Sanya Pasquini and Marie Frankum from Exeter & District Funeral Service, Caz Denning from JH Way Funeral Services in Teignmouth, Lyndsay Saunders of JH Way Dawlish and Area Development Manager Sandra Murphy got their glow on to take part in the ninth annual Sleep Walk for Rowcroft Hospice on Saturday 6 July.  They were amongst hundreds of women taking part in the sponsored night walk, choosing a five or ten-mile route.
Funeral Director Sarah Lockton said: "We had a great time. We all received a medal and a bacon butty at the end. Rowcroft is the only hospice in the area and receives no government funding so events like this are important for its future. We have raised approximately £400 and will continue to support Rowcroft by fundraising and doing all we can to enable them to continue to provide specialist care for local patients and families living with life-limiting illness."
Our glitter army completed the 5 mile walk in the evening, setting off at 8.15pm, with the added bonus of being able to watch the sun set over the bay as they walked. Even with stops for water (and the temptation of a free gin bar!!) the girls completed the course in just over 2 hours.
Those who had completed the walk before will have noticed the Lights of Love candle lit display made a welcome return, giving an opportunity to light a candle to remember a loved one while making new moonlit memories with family and friends.