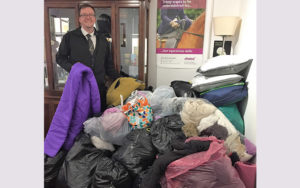 Our Funeral Arranger Justin Hydes has been overwhelmed by the Ledbury community's response to his appeal for clothes, bedding and household items to help the homeless.
Justin had a close relative who ended up on the streets after a relationship break down which motivated him to help the homeless and raise awareness and understanding of their plight.
Justin said: "I wanted to make people aware that those living on the streets are not there through choice, something bad has happened to put them there. When people get into the wrong mindset they can lose everything."
Justin linked up with Maggs Clothing Project which provides warm, dry clothing, bedding and toiletries for the homeless and gives household items to those who find a place to live to help get them back on their feet.
After he put up a poster in our Ledbury branch window, the response was unbelievable. Within two hours, people were coming through the door with bags of items which had soon filled up the front office.
Justin said: "The way the community has responded is fantastic. The local doctors' surgery donated a box of toiletries, I hope to make a delivery to Maggs every week."
Val Turner, Volunteer Coordinator from Maggs Project, said: "Maggs is very grateful for the contribution that Dawe Brothers Funeral Directors has made to the clothing project.  One of our key aims is to raise awareness of homelessness within the county and having the support from Dawe Brothers has been fantastic."