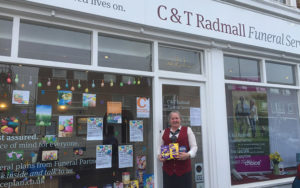 Our Horsham branch were choc-full of cheer after collecting many Easter eggs for a local hospice.
The tasty treats, along with arts and crafts materials were collected by a representative from Chestnut Tree House which is the children's hospice for East and West Sussex, Brighton and Hove and South East Hampshire and cares for 300 children and young adults from 0-19 years of age with progressive life-shortening conditions. Lisa who was only to happy to hand them over felt very privileged that the community had come together to be able to provide such a wonderful donation.
The collection of the huge pile of Easter bunnies and eggs has been co-ordinated by Funeral Arranger Lisa Lurring, who said: "It might only be a small treat, but the smiles on people's faces when they receive their gift are huge!
"I would like to thank everyone who has contributed, from passers-by enticed by our window-display.