Afternoon Tea Week Window Display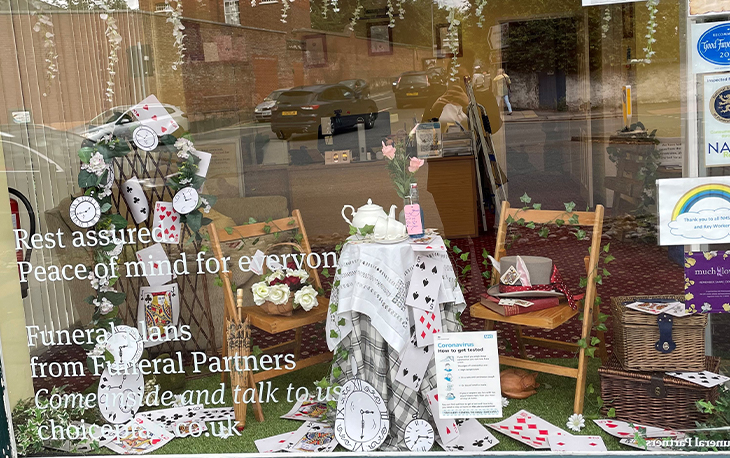 An impressive window display by Exeter and District Funeral Service for Afternoon Tea Week. The window display follows an Alice in Wonderland theme and includes playing cards, a pot of tea and the mad hatter's hat. What better way to celebrate than delicious tea and cakes?
Community Noticeboard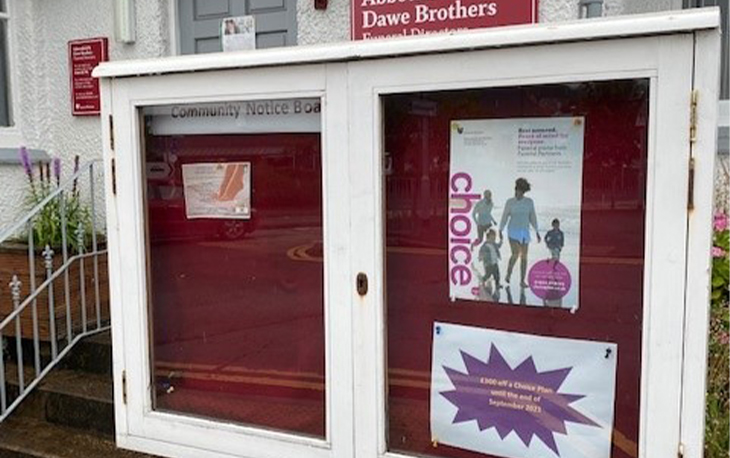 Abbotsfield & Dawe Brothers Funeral Directors in Ross on Wye have restored the community noticeboard this week. Giving local businesses the ability to promote their services for free by giving them a card or a flyer to display.
Window Display for Feed a Child, Torbay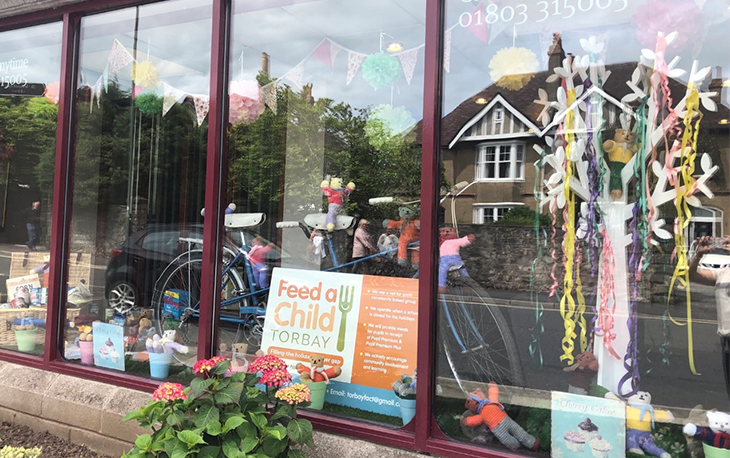 Torbay and District Funeral Service has been collecting for Feed a Child Torbay, and created this beautiful teddy bear picnic themed window display in support of this great charity.
Overcoming 100km for stillbirth and neonatal death support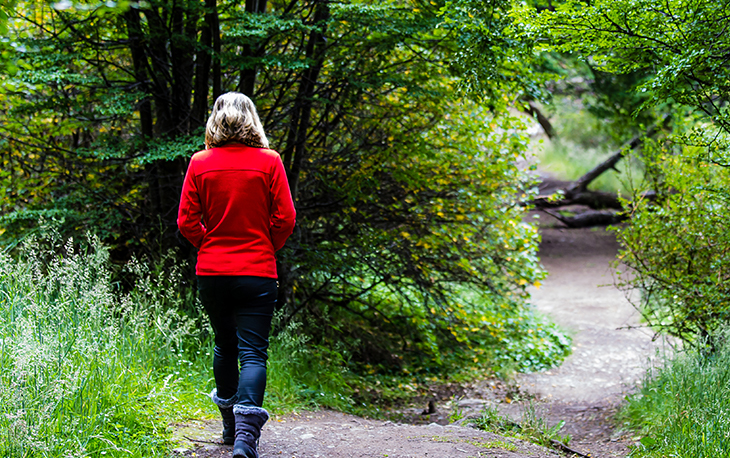 Melissa Harbidge, Funeral Arranger/Administrator at Hemming & Peace Funeral Services, Alcester, trekked 100km across her hometown, including the beautiful Lickey Hills Country Park, to give back to the charity that supported her following the death of her son.
Melissa received invaluable bereavement counselling from Sands, the stillbirth and neonatal death charity, after six-week-old Taylor passed away due to bronchopneumonia 12 years ago, inspiring her to join the funeral profession.
She said: "I spoke to consultants and counsellors from Sands who helped me and my family through a long inquest, during which we didn't know how Taylor passed away.
"I was quite stubborn, but Sands helps you realise you don't have to go it alone, and that a number of families have been through similar situations who can understand us."
Melissa decided to help other families affected by stillbirth and neonatal death on what would have been Taylor's 12th birthday by walking 100km over a month and setting up a GoFundMe page for donations towards Sands.
She set herself a daily target of three kilometres and was able to cover even more on most weekends, despite suffering from flu for some of the challenge and having previously been averse to walking.
She said: "I have to admit I drive everywhere, I'm not a walker, so this was a great chance for me to do more for the environment and my health.
"I also live right by Lickey Hills, a breath-taking country park that helped me get a number of miles in."
Melissa hopes the funds raised will help Sands provide support to more families affected by stillbirth and neonatal death. She concluded: "Sands being able to come to me, for example, instead having to face leaving my home when I wasn't ready was a big deal. Hopefully, what we raise can help towards the costs for Sands' hardworking staff to keep doing what they do best."
Donations to Melissa's fundraiser can be made at www.gofund.me/0d94b567
Weight loss journey ends in 500ft wing walk for hospice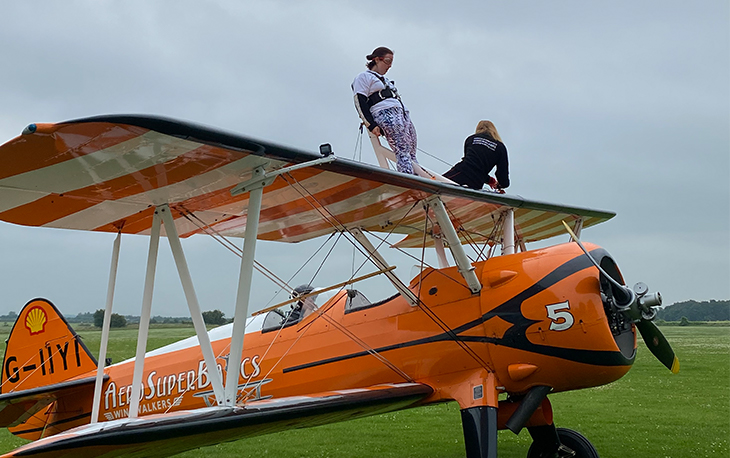 High-flying Louise Jarrett, Funeral Arranger at Woking Funeral Service, fulfilled a decade-long dream to overcome her personal challenges and raise more than £1,000 for her local hospice service.
Louise was finally able to support Phyllis Tuckwell Hospice by walking on the wings of a plane at 500ft, which required her to lose five stone across two years.
She said: "As a funeral arranger, I've always had this idea to grab people's attention and raise money for the invaluable support given to families whose loved ones are passing away.
"I had friends who were looked after extremely well by Phyllis Tuckwell Hospice, so I wanted to give something back for their amazing end-of-life care."
Louise set out to meet the weight requirement for a sponsored wing walk two years ago by walking 4km every day and sticking to a strict diet.
Covid-19 restrictions meant she had to think creatively to maintain her motivation and continue losing weight throughout 2020.
She said: "I started putting on the weight I lost when lockdown restrictions came into effect, so I began a virtual Land's End to John o' Groats walking challenge, which is 874 miles in total.
"I focused on the people in the hospice that could really use my help and was able to make progress again, as I don't like letting anyone down."
Louise decided to book the sponsored wing walk in March with one stone left to lose and set up a JustGiving page, where friends, family and colleagues collectively donated £1,235 to Phyllis Tuckwell Hospice, passing Louise's £900 goal.
Local businesses also showed their support, with The Wellington Arms pub raffling two hampers on behalf of Louise, contributing £110.
Lousie said: "I was so overjoyed at how much I raised. It gave me an enormous amount of motivation to lose the last stone by June."
Louise felt nervous as she took off from RFC Rendcomb Airfield, Gloucestershire, while strapped to a Boeing Stearman biplane at 120mph. However, there were no regrets as she levelled out at 500ft.
She said: "I absolutely loved it when I was up in the air. It was an incredible feeling and something I would happily do again."
Fiona Chapman, Events Fundraiser at Phyllis Tuckwell Hospice, said: "Louise has done amazingly to not only lose weight, but then to complete the wing walk as well.
"The money that Louise raised could pay for a week's care from one of our Care at Home nurses, who will provide patients with relief from pain and difficult symptoms, where patients wish to be in their own home."
Louise now plans to set herself another weight loss target and organise a second wing walk for Phyllis Tuckwell Hospice.
Donations can be made to Louise's fundraiser at www.justgiving.com/fundraising/louise-jarrett7
Anyone inspired to arrange their own wing walk for Phyllis Tuckwell Hospice can do so at www.pth.org.uk/event/wing-walk-2021/