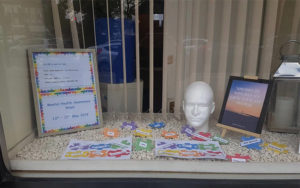 During Mental Health Awareness Week 13-19 May the window display at Aaron Black Funeral Directors aimed to raise awareness about the importance of talking about mental health and shared some useful telephone numbers for local and national services which offer support to those in need.
Like the jigsaw theme of the display, it's the small pieces that make the bigger picture and we are proud advocates of mental health support and wellbeing. As funeral professionals we support families and individuals every day during one of the most emotional and difficult times in someone's life.
Our bereavement line is always open and we are glad to be able to offer help and support 24 hours a day, 365 days a year. Call the National Bereavement Service on 0808 164 2239 for any further information or advice. The helpline is free and available Monday to Friday 9.00am – 5.00pm and Saturday 9.00am – 2.00pm.