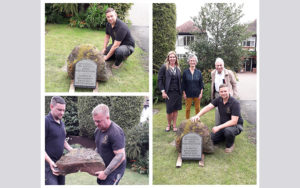 A Kenilworth memorial to 17th century paupers has been restored by Henry Ison & Sons Funeral Directors.
The mound of sandstone on the grass verge of the Warwick Road had deteriorated to such an extent that a Kenilworth Town Councillor approached the local branch of Henry Ison & Sons, just half a mile from the memorial, to see if they could repair it.
Funeral Arranger Jenny Ireland worked with their stonemason G H Davies & Son to restore the memorial known as Betsy's Grave, where paupers' bodies were left by the neighbouring parish of Leek Wootton which was unwilling to pay for their funerals.
Jenny said: "Betsy's Grave reminds us of a dark period in Kenilworth's history. The new memorial will remind people of this tragic part of the town's past and enable them to reflect on how well the deceased are looked after nowadays."
The sandstone mound had remained unmarked until 2011, when Henry Ison & Sons laid a memorial headstone marking the boundary between Kenilworth and Leek Wootton which described it as Betsy's Grave. Originally some thought the grave was named after an individual called Betsy, but historians say it represents the abandoned paupers of that Elizabethan era.
Kenilworth Town Councillor and former Mayor Kate Dickson said: "It's important to keep links with the past for future generations and we're thankful Henry Ison & Sons stepped in to support our local community."
Historian Graham Gould, who has been campaigning for the repairs since he was a child, said: "We're losing so much heritage in Kenilworth to new projects and planning permissions.
"Henry Ison & Sons saw we were raising awareness for Betsy's Grave and said they'd fix it and pay for it. I'm delighted."