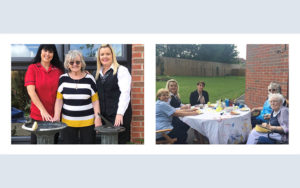 Kind-hearted Funeral Arranger Amy Duffy was quick to respond to an appeal by a local Care Home for donations.
Amy saw the appeal by Heartlands Care Home on Facebook and swiftly offered a bird bath and sun dial for the residents to enjoy in the garden. Amy alongside Area Development Manager Fiona Hughes were invited on a tour of the new building followed by tea and cake and were very impressed with the facilities.
Amy said: "The care home staff were overwhelmed by our donations and they loved the fact we have taken the time to get involved and help. Being part of the local community is very important to us and we are thrilled to have struck up such a nice relationship with the Heartlands Team. We are happy to help in whatever way we can."
The care home has since enquired about William H Painter's free Bereavement Awareness training workshop for care staff and requested information for bereavement packs to assist families at a time of need.