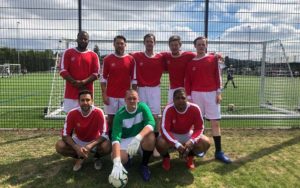 On Saturday 6 July a team made up of keen sportsmen from our South West London branches including Steven Mears and A Yeatman took part in a charity 5-A-Side football tournament at Long Lane Football Club, Eltham.
The Demelza Shield tournament was arranged by the staff at Eltham Cemetery and Crematorium in aid of Demelza Children's Hospice.  The Funeral Partners team was captained by Regional Development Director Jamie Groves and included Funeral Director Bobby Maull-Robinson, Funeral Service Operatives Kingsley Kirlew and Steven Curran as well as four staff family relations.
Demelza provides specialist care and emotional support for children with terminal conditions and their loved ones, so they can enjoy time together as family, for as long as they have.
Unfortunately the team couldn't bring home the coveted prize after narrowly missing out in the final but a great day was had by all. All participants paid a £50 fee to take part which was donated to the hospice.
Funeral Director Bobby Maull-Robinson said:" The team played phenomenally, winning all the group matches making it all the way to the final. The team showed heart and true grit and went ahead by the first half but unfortunately couldn't secure the win. FPL FC will be back next year bigger and stronger!"
Regional Development Director Jamie Groves said: "The tournament was just for funeral directors which was a great way to get together and unite for such a good cause. We were supported by team members from other branches which was nice of them to show their support in their own time that means a lot."