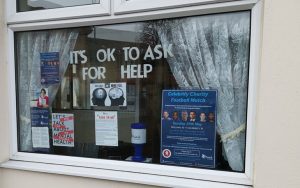 Our Belvedere branch raised awareness for Mind in Bexley with this thought-provoking window display. The display highlighted the importance of asking for help and talking about mental health.
Mind in Bexley is an independent, user-focused charity providing quality outcome-based services to make a positive difference to the Mental Health of the people of Bexley, offering a range of services including talking therapies and support for carers. The team were proud to support the charity and will continue to raise awareness of their services in the local community and have an on-going fundraising collection in branch.
Our bereavement line is always open and we are glad to be able to offer help and support 24 hours a day, 365 days a year. Call the National Bereavement Service on 0808 164 2239 for any further information or advice. The helpline is free and available Monday to Friday 9.00am – 5.00pm and Saturday 9.00am – 2.00pm.
To contact Mind in Bexley phone 0208 303 8932, visit 2a Devonshire Road, Bexleyheath, DA6 8DS or email info@mindinbexley.org.uk