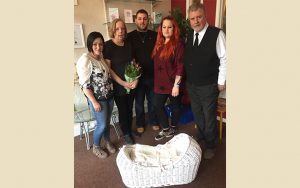 A bereaved family, who very sadly lost their six-month-old baby, have raised funds to donate a Cuddle Cot to Sterry Funeral Service in Folkestone.
Local couple India Gibson, 25, and partner Jamie Hayes, 32, suffered the loss of their son Toby while on holiday in Liverpool last year and originally started a fund to raise the £500 needed to bring him home.
Within three hours of the fundraising plea going live, donations of over £2,000 came in. India said: "The generosity of friends and family at such a difficult time was overwhelming, with donations coming in from people all over the world – allowing us to bring our little boy home.
"We were able to spend some precious extra time with Toby thanks to the use of a Cuddle Cot kindly lent to us by charity Cariad Angel Gowns.
"It really helped with our grieving process and we wanted to use the extra money donated to us to purchase and gift Cuddle Cots to local funeral branches."
The Cuddle Cot system uses a cooling mechanism to maintain a baby's condition after they have died and can be taken away and used at home.
India added: "Our wish is for other parents experiencing loss to have a chance to spend more time with their baby, give them love and make memories before saying goodbye."
The Cuddle Cot donated to Sterry Funeral Service is the second one the couple have funded and they raised the additional money needed by holding a series of fundraising events.
A presentation was held on what would have been Toby's first birthday, and was attended by over 15 of the couple's friends and family.
Amy Walker from Cariad Angel Gowns presented Clive Sterry and Wendy Heathfield from Sterry Funeral Service with the Cuddle Cot and it will be shared between the company's Folkestone and Hythe branches.
Funeral Director Clive Sterry said "We really appreciate this kind donation. When parents lose their baby, it is devastating, and our job is to give their child the best of care.
"By having our own Cuddle Cot we can offer local families the gift of extra time with their baby in our branches or in the comfort of their own home."