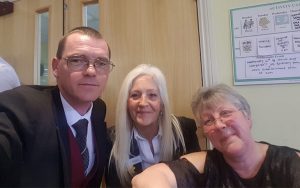 Funeral Director David Wilson and Funeral Arranger Donna Forrester attended Albany Park Care Home in Enfield last week where they were having a party to celebrate one of their residents turning 100!
For such a milestone birthday David and Donna wanted to do something special so arranged for a singer by the name of Liz Simpson to attend and sing some of the lady's favourite songs which could also be enjoyed by the other residents.
Donna said: "There were about 50 people present and the singer was a great success, everyone was singing along and said they had a great time.
I first met Liz when she popped into the office to introduce herself as a funeral singer, she is a lovely lady so when I heard about the 100th birthday party I called her to see if she would be able to attend to sing some songs and she was very happy to help.
She sang lots of old songs including Knees up Mother Brown, It's a long way to Tipperary, Daisy Daisy, she even sang Twinkle Twinkle little Star for a few children that were there."