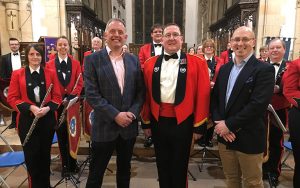 John Blenkiron & Sons were proud sponsors of the 2019 Lennox Lodge Band Concert at St Mary's Church in Richmond on the 30th March. Bought back by popular demand, the concert bought together some of Yorkshire's finest musical talent and sought to raise funds for three charities in the process, Macmillan Cancer Support at the Sir Robert Ogden Macmillan Centre in Northallerton, the Richmond branch of the British Heart Foundation and The Royal British Legion within North Yorkshire.
Music was provided by the Band of the West Yorkshire Fire and Rescue Service, an amateur marching band made up entirely of volunteers across Yorkshire who entertained concert-goers with a selection of military and jazz songs. The band has performed all across the UK and as far afield as Canada so it was an honour to hear them perform and hopefully their toe-tapping tunes got everyone dancing.
Distinguished guests included respective charity representatives as well as the Deputy Mayor of Richmond and the night was a huge success with vital funds being raised for three well-respected local charities.