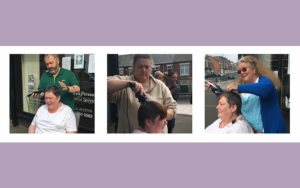 Suzanne Bremner, Regional Funeral Administrator of Daren Persson Funeral Services in North Tyneside, invited passers-by to shave her hair off to support a local bereavement charity.
Suzanne sat outside our Howdon branch in Wallsend and put posters in the windows inviting locals to pop in for her home-made cakes, muffins, a tombola and to have a go at shaving her head.
She said: "It was a small price to pay for such a well-deserving local charity as Darcey's Dream, that supports so many bereaved families and siblings, as my hair will grow back."
Local nursery children and businesses were among the gathered crowd, whose donations amounted to over £1,000 and counting for the charity.
Suzanne said: "The local community and local businesses have been a massive support to helping us achieve the target. 
"I see so much sorrow as a funeral professional and many siblings who feel they'll never be able to move on. Darcey's Dream is therefore a vital part of the journey and I'm proud to support them."
Petra Williams, Founder and Trustee of Darcey's Dream, said: "We're so honoured that Daren Persson chose to support us and I think the amount raised is incredible. 
"It will allow us to organise more activities for our sibling distraction therapy, as well as boost our Sibling Memory Boxes and 24-hour counselling support."
"We have a great relationship with Daren Persson and recommend them in bereavement packages we send to those grieving, because they do an amazing job."
Daren Persson Funeral Services is a finalist at this year's Darcey's Dream Ball and Awards for funeral directors that go above and beyond, having been shortlisted from 60 to six following overwhelming nominations from families.
Petra said: "Daren Persson got about 42 recommendations from families, which is a lot. Last year they came second and our fingers are crossed for them.
"The award will be independently judged for funeral directors that go above and beyond expectations, and Daren Persson certainly deserve it."