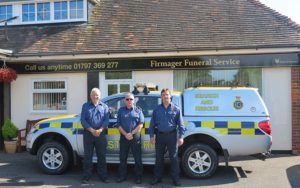 We at Firmager Funeral Service are proud to have four members of our team volunteer for Her Majesty's Coastguard.
Philip Tanner our Funeral Director has served four years with HM Coastguard search and rescue in Dungeness, Kent, alongside colleagues Trevor Clark our Funeral Service Operative who has served 18 months and Stuart Sayer a casual Funeral Service Operative  who has served three years. Funeral Service Operative Paul Burton has served six years at HM Coastguard Search and Rescue Team in Folkestone.
A coastguard supports search and rescue services to prevent loss of life on the coast and at sea and they are all fully trained in rescue methods including mud, cliff, water and search and rescue. Other training includes first aid, search techniques and map work.