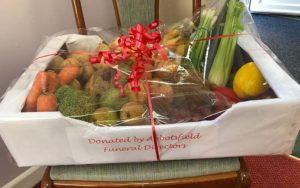 You could be mistaken for thinking Christmas had come early if you had visited Abbotsfield in Hereford recently. Funeral Arranger Jacqui Williams has been busier than Father Christmas himself donating refreshments, hampers and raffle prizes to various institutions across Hereford.
The first recipients of Jacqui's gifts were the West Hereford Team Ministry which received teabags and whipping cream as well as a raffle prize for their strawberry tea event. The West Hereford Ministry Team is made up of four parishes in and to the west of Hereford city centre. All Saints in the heart of the city, Holy Trinity on Whitecross Road, St. Nicholas on the bridge and St. Michael's in Breinton.

The Holmer school Fete was next with a donation of a hamper containing stationary and book to be raffled off. St Pauls School also received a raffle prize hamper made up of stationary and books.
Last but by no means least Jacqui donated a fresh fruit, salad and veg hamper for the Breinton Church Fete. The hamper was a feast for the eyes and the taste buds and included potatoes, swede, parsnips, carrots, broccoli, spring onions cucumber, celery, peppers, tomatoes, radish, coconut, apple, oranges, grapes, bananas and pears.
Being an active member of the community is a fundamental part of what we do and this is a prime example of how we work hand-in-hand with our community and support local events.