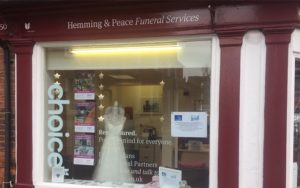 The team from Hemming and Peace Funeral Services in Alcester, Warwickshire, won the support of their local community with an eye-catching wedding dress window display.
They decided to support two non-profit organisations which turn wedding gowns into beautiful outfits for babies and children who have passed away.
After securing a donation of two dresses from Tessa Francis Bridal Studio of Alcester, their unexpected display captured so much attention that they collected a further 36 dresses from members of the public to donate to Heavenly Gowns and Dresses for Angels.
Funeral Arranger Emma Gibbons said: "Seeing a wedding dress on display in a funeral directors got people talking and, as I live in the town, some people were even stopping me when I wasn't at work.
"This is a cause close to my heart and it is a privilege and an honour to help families at such a difficult time.
"We even had someone who saw the dress in our window and asked if they could buy it for their own wedding, in return for a donation."
The team has also donated £100 between the two organisations to support their work to continue.