Who Can Conduct a Funeral Service?
It's a common assumption that only religious leaders or funeral directors are able to conduct a funeral service but the truth is that anyone can do it. Having a funeral isn't a legal requirement which means that the person who presides over the funeral doesn't need to be qualified to do so. In this article we'll look at the options available and which may be the most suitable for the family's requirements as well as honouring the wishes of the loved one.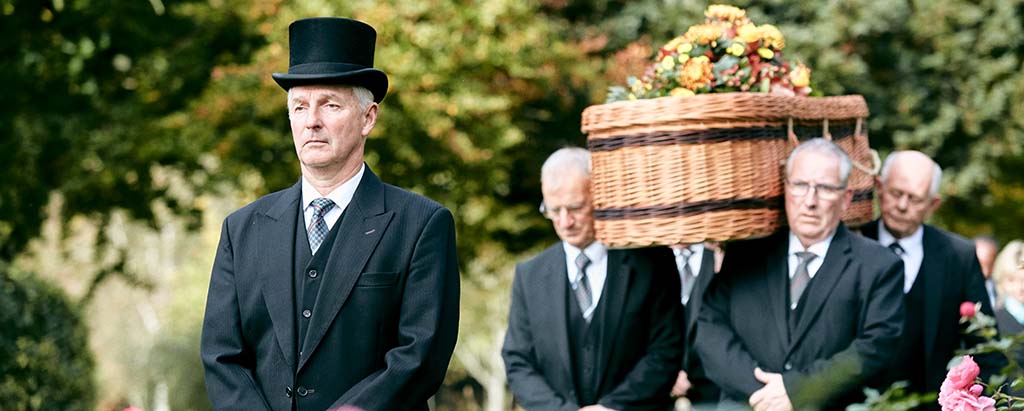 Deciding Who Should Conduct the Funeral Service
With personalisation becoming increasingly important in funeral services, more people are exploring options for who can conduct a funeral service.
Traditionally, funerals in the UK were held in places of worship and conducted either by religious leaders. However, the reality is that today, anyone can conduct a funeral service – even friends and family members.
When deciding who should lead the service, consider your loved one's wishes. Were they religious or spiritual? Or did they specify that they'd rather opt out of a religious ceremony? Whatever their beliefs, you should find a suitable option below.
Religious Leader 
If your loved one was religious, they may have requested a service at their place of worship. There may even be a particular vicar, priest, or religious leader they'd like to conduct their service. Priests and vicars will often help with planning the order of service, hymns, and other aspects of the funeral. In many cases, there will be a set order of service followed in a religious ceremony.
Religious leaders will often offer ongoing support after the funeral, providing a source of guidance and comfort to those who have lost a loved one.
Civil Celebrant
A civil celebrant is an alternative to a religious leader for those who have requested a non-religious funeral. Attached to no belief system or religion, a civil celebrant will focus on delivering a funeral service that reflects the life of your loved one. Like a religious leader, a civil celebrant will help you plan the ceremony, meeting with you in advance to discuss arrangements.
If your loved one would like to include some religious elements, a civil celebrant will also be able to accommodate this, although they do not have the authority to perform rites, blessings, or other religious rituals.  
Humanist Celebrant
A humanist funeral focuses on the person's life, expressing sadness whilst also celebrating the life they were able to live. Humanism is rooted in science, and as such a humanist celebrant will not be open to incorporating any religious elements into the service.
However, they will include personal elements to ensure the service reflects your loved one's character. Like civil celebrants, they will meet with you to discuss plans for the ceremony and guide you through the process with compassion and care.
Friends or Family
Another option is for a friend or family member to take on the role of conducting the funeral service.  The role will include leading the order of service, reading poems, prayers, or eulogies, and inviting other friends or family members to speak. In the same way that a professional celebrant consults friends and family about the order of service, the person who is leading the service should do the same, ensuring your loved one's wishes are honoured.
Some families choose to split the role between multiple people – two siblings leading the funeral for a parent, for example.  This requires more co-ordination and working together to share responsibilities and decide who speaks when.
How to Conduct a Funeral Service
A funeral service should provide comfort to the bereaved and create a fitting atmosphere to honour your loved ones wishes. If you're considering conducting a funeral service for a loved one, here's some simple guidance: 
Although leading a funeral can be emotional, be sure to speak clearly and slowly to be understood by everyone.
Practice before the funeral to make sure your service runs smoothy.
Take notecards and use as prompts to help with your flow.
Prepare an order of service in advance and distribute this to mourners on arrival.
Speak to other friends and family before planning the funeral service to ensure you've honoured their wishes.
Incorporate readings, poems, and songs.
Address the congregation and thank them for coming.
Inviting friends and family to say a few words.
Funeral Partners Can Help
If you're still considering options for a funeral service, please contact your local funeral director to guide you through your options in more detail.
Further Reading: Arranging a funeral
Read about how funerals are arranged and what services you can expect to get.