Our Guide to Selecting a Funeral Venue
When planning a funeral, venue hire is one of the main things to consider. Two locations will feature: one funeral venue for the wake and one for the service.

Read our advice on what to think about when choosing venues for funeral services and wakes.

Funeral service venues
Some people will inform a loved one of their final wishes before they pass away, making it easy to select a venue. But in some cases, you may be arranging a funeral unexpectedly, meaning the decision falls to you.
A good place to start is with a venue for the funeral service. Where this is held will depend on the type of funeral being arranged. If the person who has died is being buried, the service is generally held at the place of worship where the burial will take place. Sometimes there will even be an existing relationship with the service leader and the person who has died and their wider community.
When the person is being cremated, the service is typically held at the chapel next to the crematorium. However, sometimes the service is held at a place of worship before going to the crematorium.
Capacity is another thing to consider. Will your chosen venue be large enough for everyone who wishes to attend the funeral? If there won't be many in attendance, a compact venue could be more appropriate.
Most services take place close to where the person lived. When considering a venue for the service, think about whether it's easy for friends and family to get to the venue. What are the public transport links like? Will it be prohibitively expensive for mourners to get taxis, or will lift sharing be an option? Ensuring that loved ones can access the venue will help to ensure your loved one has a wonderful send off and everyone who wants to pay their final respects will be able to attend.
Less traditional venues are also an option for the funeral service – it doesn't have to be limited to chapels and places of worship. From sports stadiums to theatres, there are so many ideas to choose from that can reflect the personality of the person who has passed away. But keep in mind that if you are thinking of opting for a non-traditional space for a funeral service, make sure your chosen venue is comfortable with having a coffin on site.
Funeral wake venues
After the funeral service, the funeral wake is an opportunity for friends and family to share memories and support each other. When a loved one passes away it can be a difficult time, and being around loved ones can be an important source of comfort.
The event space or function room you choose for the funeral wake should be easy to travel to after the funeral service. It could be somewhere that was close to the heart of the person who passed away – perhaps a local social club, a restaurant they loved or a pub where they celebrated milestones during their lifetime. Wherever you choose, the most important thing when choosing funeral reception venues is that it's a nice environment where friends and family can come together to remember the loved one they have lost.
How you plan on catering the funeral wake service is another consideration when it comes to choosing funeral reception venues. Depending on your budget, you may want to cater the wake yourself, or you may prefer to use catering services provided by the venue. Our guide to funeral wake food may help you to decide on which option to choose for catering.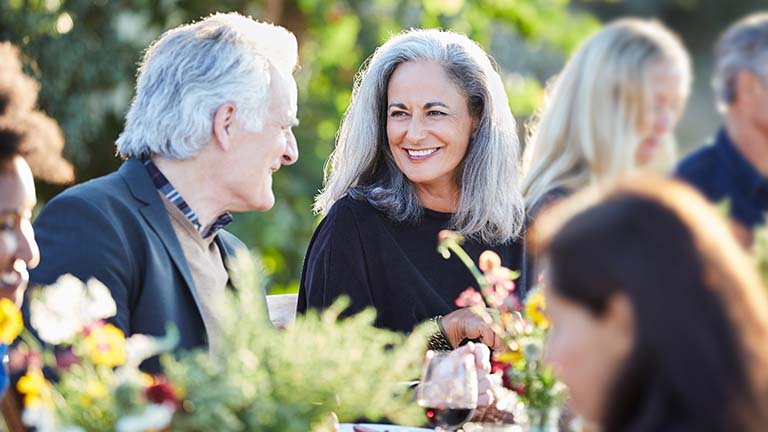 Your funeral director can help
If you're not sure where to start when choosing funeral reception venues, speak to your funeral director. At Funeral Partners, our local funeral directors will be able to offer advice on options for where to hold the service as well as funeral wake venues. They can also organise the funeral service on your behalf, leaving you more time to spend with friends and family.
If you need guidance on planning a celebration of life, please get in touch with your local funeral director where our friendly team will be able to help.
Further Reading: Cost of a funeral
Find out about funeral costs and what financial support could be available.