A guide to selecting funeral wake food
When organising a funeral wake, it's tradition to provide a bite to eat for the people attending. This gives guests something to nibble on while they converse and mingle with friends and family members they may not have caught up with in a while. Here are some things to consider when thinking about catering for a funeral wake.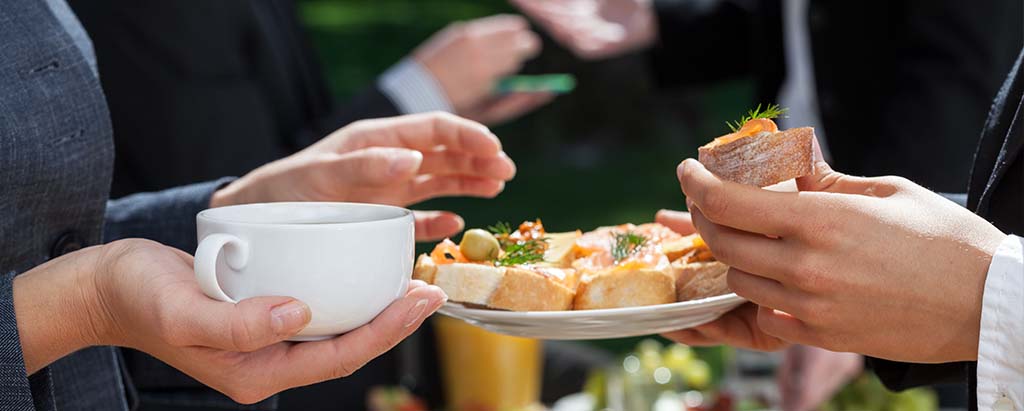 Where will the funeral reception be held?
The venue where you hold the wake may have an impact on the type of catering you opt for. If you're holding the wake at home, one pot meals might work well. You'll be able to keep food warm on the stove, and use the kitchen for prep. Community spaces may or may not have kitchen areas. If not, finger buffets could be an easier choice as the food can be prepared in advance.
How many people will you be catering for?
For large crowds, choose funeral food that can be made in bulk – think one pot meals, tray bakes, and sandwiches. For smaller groups you can be more flexible and opt for options such as afternoon tea, or a spread of different salads.
Will you prepare the food yourself?
If you're taking on the catering yourself, think about calling in favours from friends and family members – you don't need to bear the responsibility alone. If you are preparing foods for a larger group, it helps if others pitch in with the prep. You might be grieving, and sorting out the foods for the wake may provide a welcome distraction, but if you can get help from friends, family or the community, it may make the process a little smoother. You could also research catering companies in your area with experience in providing food for funeral wakes.
What's your budget?
It makes sense to decide in advance how much you can afford to spend on the funeral wake food. In some cases, there might be money set aside for this already. If you do have the budget, enlisting the help of catering services can alleviate the pressure on you, giving you one less thing to think about on the day of the wake. The advantage of catering companies is that they are experts in providing food for a crowd, and they'll work with you to put together a menu that will suit your guests.
Think about dietary requirements
One important thing to consider when catering for a funeral is that there are options for everyone attending. Vegetarian and vegan diets are increasingly common, so it's worth ensuring that there are at least a couple of meat and dairy free options that everyone will be able to eat. If you're using a catering company, ask them to clearly mark the meat free options to make it easier for the guests. This should be a simple ask for buffet style food.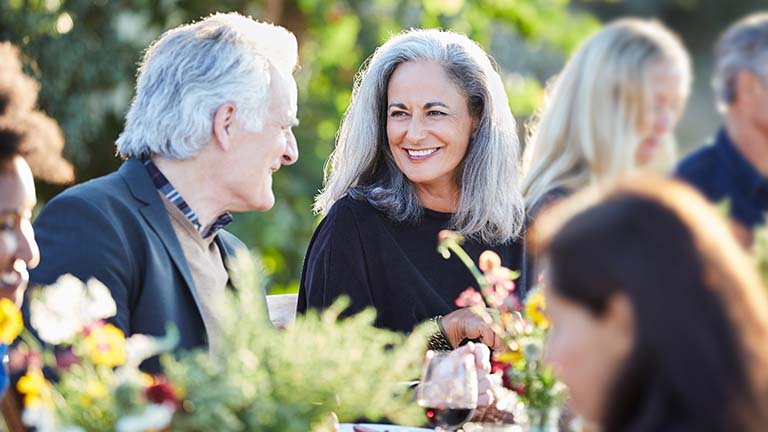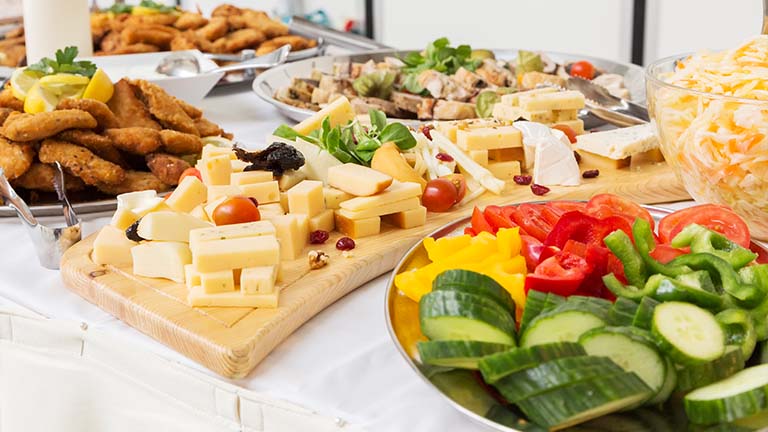 Ideas for funeral wake food
Afternoon teas work well when guests are seated at tables in a community venue. Guests can share sandwiches, cakes, tea and coffee whilst sharing memories and catching up with one another.
Finger foods. Sausage rolls and devilled eggs are a popular choice for funeral wake finger buffets. Incorporate more vegetables by adding crudités, hummus, dips, and fruit plates. Salads can also work well alongside finger foods – potato salad, egg salad and couscous are all great options to add some colour and texture to the spread.
One-pot recipes are a good option when planning foods for a wake to be served at home or in a community space, especially when you're doing the catering yourself. The idea is to opt for hearty, comforting meals that will serve a crowd.  
There are no hard and fast rules when it comes to catering for a funeral wake. The foods you choose to serve are completely up to you and your personal tastes. Culture may also play a part, as well as requests from the person who has passed away. Finally, remember to take care of yourself when organising the funeral wake catering. Try not to feel pressurised – after all, the guests are there to attend a funeral, and they won't be expecting the meal of a lifetime. Here are some sample menu ideas for funeral wake food:
Menu 1: Afternoon tea
This option is ideal for serving at a table along with tea and coffee. Many catering companies will be happy to provide afternoon tea. Alternatively, you could make it yourself with the help of friends and family.
Cheese and cucumber sandwiches
Ham sandwiches
Roast veg sandwiches
Scones with cream and jam
Vegan carrot cake cupcakes
Menu 2: Finger food buffet
Finger food buffets are crowd pleasers, especially when you ensure there are options available for everyone's dietary requirements.
Sausage rolls
Loaded potato skins
Crispy mushroom sliders
Potato salad
Devilled eggs
Tomato and mozzarella bites
Coleslaw
Menu 3: Hearty and wholesome
One to opt for if you're self-catering and can make large batches in advance. Don't forget to make sure you have plenty of cutlery.
Three bean chilli
Green salad
Brown rice
Sour cream
Nachos
Need help arranging a funeral?
If you're about to plan a funeral and need some guidance, please feel free to reach out to our friendly team at your local funeral home.
If you need guidance on planning a celebration of life, please get in touch with your local funeral director where our friendly team will be able to help.
Further Reading: Cost of a funeral
Find out about funeral costs and what financial support could be available.