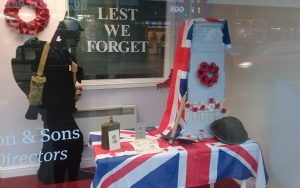 The team from Henry Ison and Son Funeral Directors, Kenilworth have been supporting remembrance with their impressive window display.
Kenilworth Town Council held a shop window display competition for all windows associated with Remembrance, which was won by our Kenilworth branch.
The entire window space was dedicated to a life-sized mural of a soldier, army kit and poppy wreaths, which were placed alongside war letters and a photo of a war solider.
Funeral Arranger Jenny Ireland Said: "I am over the moon that they thought mine was the best. Apparently, the Mayor and a Veteran from the British Legion loved the display which is just wonderful. I will definitely enjoy the bottle of champagne so thank you very much."