Sunderland community starts knitting to support mums who lose their babies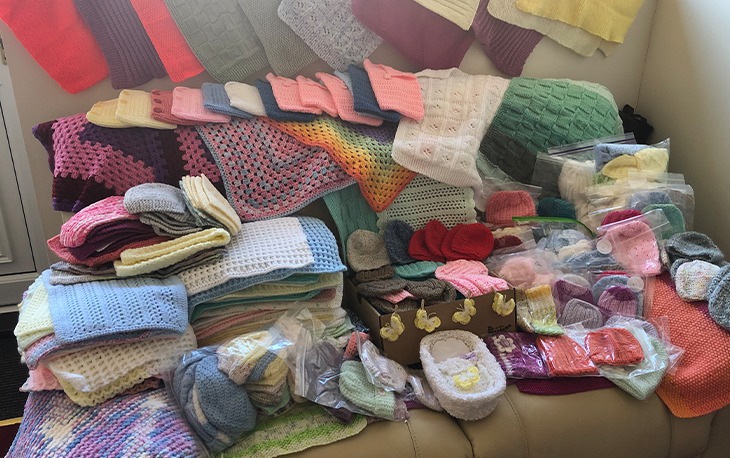 Members of the Sunderland community have been inspired to knit and crochet, donating dozens of tiny clothes to a local funeral director after she started making blankets, hats and mittens for stillborn babies.
Aimee Hughes, Funeral Director at Walker & Morrell Funeral Directors in Washington, Sunderland, taught herself to crochet after being moved by arranging funerals for babies who were too fragile to wear traditional baby clothing.
She said: "Many stillborn babies sadly come to us without being fully clothed because they're so small. I started crocheting small woollen hats, socks and blankets for them to wear and have been inundated with donations from the local community, including materials and other woollen items."
The funeral director learned how to crochet through video tutorials on YouTube during lockdown restrictions after a suggestion from her auntie.
She said: "I'm quite crafty and do lots of cross-stitching, but I've never got the hang of knitting. When my auntie suggested crochet, I could finally make my idea a reality."
Aimee posted a picture of her woollen cardigans, blankets and mittens on Facebook and immediately received messages from people wanting to help.
She continued: "Thanks to the generosity of people across Washington and Sunderland, we now have plenty of clothing to give babies at Walker & Morrell."
Aimee donates excess clothes to the mortuary staff of the Queen Elizabeth Hospital, Gateshead, who share them with the rest of the Hospital Foundation Trust. This includes Sunderland Royal Hospital, as well as colleagues working on maternity wards as the clothes are ideal for premature babies too.
Clare King, Charitable Funds Officer at Queen Elizabeth Hospital, said: "We would like to extend our heartfelt thanks to Aimee for taking the time to hand-craft these items of baby clothing and for choosing to donate them to us. Her efforts will make a huge difference to the lives of parents and families at the Queen Elizabeth. We're very grateful for her support."
Aimee now aims to supply Queen Elizabeth Hospital with a blanket and hat for every stillborn and premature baby under their care.
She also recently donated her 21st pint of blood for neonatal babies, with her blood carrying a special antibody that aids their development.
She concluded: "I am absolutely amazed by the kindness and support of our local community. It has been heart-warming to hear stories from mums who have lost babies and wanted to help other women in their time of need."
Donations can be made to Aimee's initiative at Walker & Morrell Funeral Directors on 4 West View, Concord, Washington, NE37 2DT.
Mulhollands Funeral Directors runs photo contest to keep in touch with Northern Irish communities

To help raise environmental awareness, Mulhollands Funeral Directors in Carrickfergus and Larne asked people to send pictures of wildlife, nature and the environment to be in with the chance of winning £200-worth of photography equipment.
Regional Development Director Julian Hodgkinson and Peter Mulholland, Business Consultant at Mulhollands Funeral Directors, received a number of breath-taking entries across Northern Ireland to judge, from Portaferry to Ballintoy. They decided to award first place to Clive Harbinson, owner of Carrickfergus Street Photography, for his shot of a river running under a bridge in Tullymore Forest Park.
Clive said: "I went to the park to take a series of photos for Carrickfergus Street Photography and a strong wind suddenly picked up, swirling leaves all around the river that ran under the bridge.
"I set the camera's exposure delay to 20 seconds which created a beautiful ripple effect of the leaves racing across the surface."
Mulhollands Funeral Directors awarded Clive a £200 photography voucher for the winning shot, which he plans to spend on new camera filters. He explained: "Various filters can help smooth out and enhance scenery which, as a primarily landscape photographer, will help me secure more shots like this one."
Clive concluded with some advice for the runners-up: "Make sure you always bring the right equipment for the right shot. There's nothing worse than being unprepared when the scenery suddenly aligns for a great photo."
Carrickfergus Street Photography can be found on Facebook and Instagram.
Hampshire funeral home honoured with distinction award for service to local families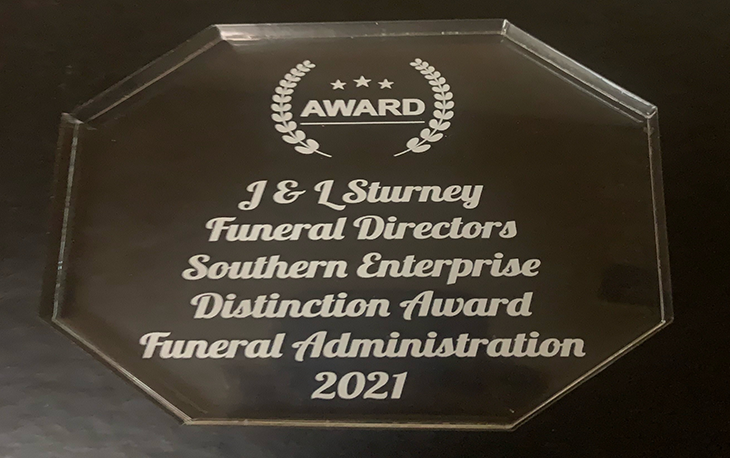 A Hampshire funeral home has been awarded the Southern Enterprise Distinction in Funeral Administration for its service to local families throughout 2021.
J & L Sturney Funeral Directors, Lyndhurst, impressed the Southern Enterprise Awards with its dedication to the local community by going above and beyond at a time when funeral services were restricted due to the Covid-19 pandemic.
Helen Osment, Funeral Arranger and Administrator at J & L Sturney, said: "It was a difficult year for the bereaved. Funeral services continued to be restricted in numbers, memorial services had to be delayed and some people were not able to travel and pay their respects to loved ones.
"J & L Sturney works as a team, including out of hours and at weekends, to ensure the families we serve come first. This involved keeping families up to date with the latest guidance and offering them meaningful ways to mourn their loved ones."
The funeral home was nominated for the award by Mr and Mrs Newport, a local family who thought highly of the service they received from J & L Sturney and in particular Helen.
Helen and her colleagues were delighted to learn of the nomination and were pleasantly surprised upon receiving notice that J & L Sturney had won. To mark their achievement, Funeral Partners – the network of funeral businesses that owns J & L Sturney – created a special trophy to present to them.
Helen said: "I was utterly surprised, and proud of the teamwork, dedication and commitment J & L Sturney has shown local families and the community through difficult circumstances over the past year."
The Southern Enterprise Awards judging panel commented: "Implementing a client-centric approach has helped J & L Sturney Funeral Directors become a leader in the funeral services industry. From the moment of that first call, the team put any concerns to bed by taking care of every small detail.
"No matter what time or day it is, somebody will be on hand to provide a high-quality service. The average cost of a funeral has more than doubled since 2004 to over £4,200, so with this in mind J & L Sturney Funeral Directors can offer a range of prepaid funeral plans to ease the burden on families.
"With a strong track record to call upon, J & L Sturney Funeral Directors continue to lead the way in the industry and as we look ahead to 2022 and beyond its future looks very promising."
The Southern Enterprises Distinction in Funeral Administration is a welcome addition to J & L Sturney's accolades, which include Gold in New Forest District Council's Up Your Game, Up Your Gain 2019 initiative.
Peter Dearing, Regional Development Director at Funeral Partners, said: "I'm very proud of what J & L Sturney has and continues to achieve in serving their local community of Lyndhurst. Keep up the good work."
Helen looks forward to continuing to support families with the quality and care J & L Sturney is known for. She concluded with some advice for the runners-up: "Always be proud of what you do and shine in your profession. It really shows, is always appreciated and does not go unnoticed."
To keep up to date with J & L Sturney's latest community activities, visit www.sturneyfunerals.co.uk.
Supporting the Air Ambulance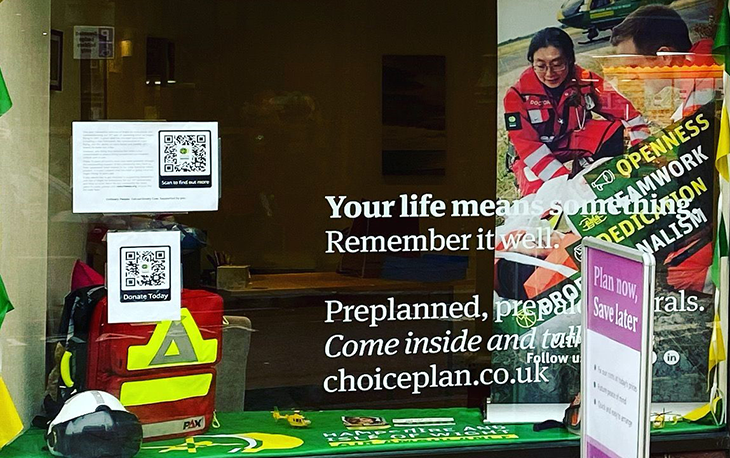 AH Rogers Eastleigh dedicated a window display to Hampshire and Isle of Wight Air Ambulance in honour of their 15th birthday. 
Foodbank donation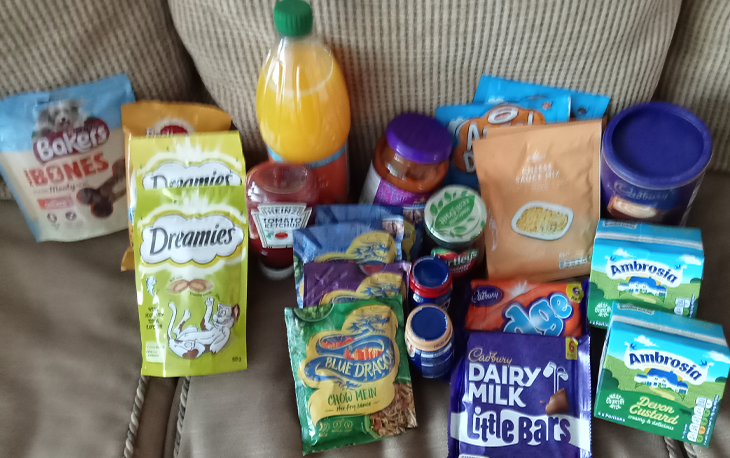 These are the latest donations to be handed over to Durham Foodbank as part of John Blenkiron' s ongoing commitment to support the local community.
Helping Barby keel Animal Sanctuary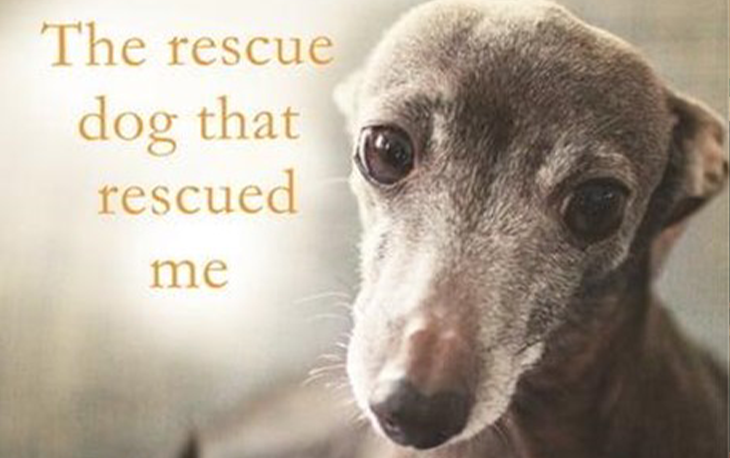 When Funeral Arranger Jane Searston received a copy of the book 'Will You Love Me' by Barby Keel herself, it compelled her to start a collection for the animal sanctuary.
The book tells the courageous story of an abandoned greyhound and after finishing the book Jane knew she had to help in whatever way she could.
Jane was overwhelmed by the generosity of others who, like her, love animals and are concerned for their welfare.
The collection is ongoing, if you would like to make a donation contact funeral arranger Jane Searston.
Well Wishers donation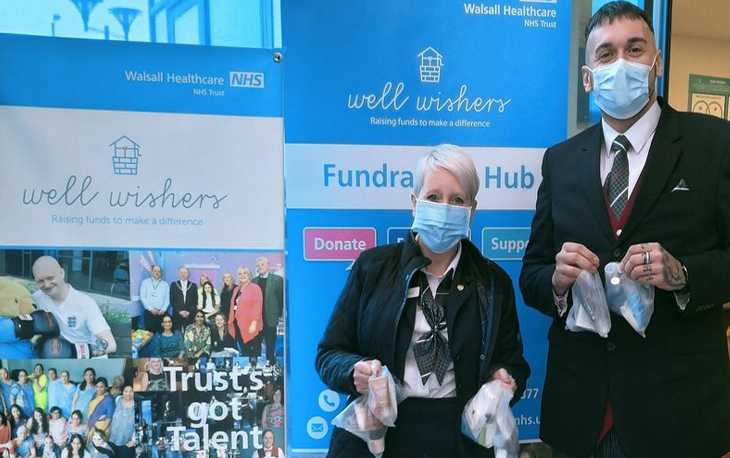 The team at Roy Quinton Funeral Directors in Walsall donated 'little bags of kindness' to be distributed to patients at Walsall Manor Hospital.
Well Wishers Charity supports the work of Walsall Healthcare NHS Trust by helping to fund equipment and resources to help patients and their families.
Regular supporter of the charity and Funeral Arranger Wendy Tolley, alongside her colleague Nathan, set up the appeal and with the support of other team members put together the goody bags.
Toy donation
A donation of toys and clothes was made to local charity FSN who provide support for children and young people suffering the effects of poverty, disadvantage, neglect, and abuse.
Thank you to everyone who supported the donation appeal.
Young at Heart
AN Abraham Funeral Directors have made their annual donation to local bereavement group, Young at Heart.
The group meet once a week at The Grove Hall, South Kirkby. As well as weekly get togethers, where they can chat, play bingo, and often have a singer or a speaker, they often travel further afield for trips all over the UK.