Christmas Memorial Service and Tree Blessing
Each Christmas we host our Annual Memorial Christmas Tree Campaign in the area. Those who have lost loved ones can come into our branch and place a memorial card on our Christmas Tree, with their own message of remembrance. The Memorial messages are then blessed at a special service, creating a truly personal memory for all those involved
Whilst we may not be able to do everything, we would normally do at this time due to Covid-19, we will continue to do what we can, and our funeral homes will be decorated to reflect the season.
Funeral director runs marathon distance to raise hundreds for cancer support during lockdown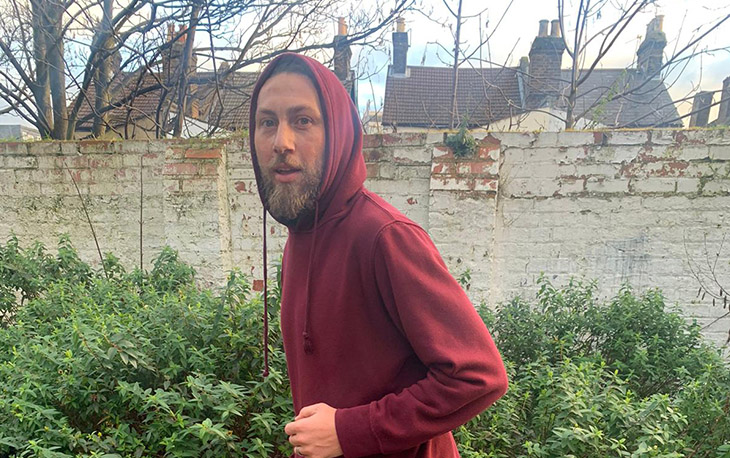 Jamie Groves, Regional Development Director of Funeral Partners Greater London South has raised hundreds of pounds for cancer support by running more than the distance of a marathon after being inspired by his nan who was diagnosed with the disease.
Jamie woke up at 5:30am to run 5km as part of the daily exercise limit imposed by lockdown for 10 days, reaching an ambitious 50km total to raise money for Macmillan Cancer Support.
He said: "Charities such as Macmillan need funding more than ever right now, so we must find ways to energise people to donate while following lockdown rules."
Jamie and his colleagues host regular fundraising activities for Macmillan such as coffee mornings, however restrictions imposed by the Covid-19 pandemic forced him to think outside the box.
He got in touch with the charity who suggested the 10 Day 5K challenge. Jamie created his fundraising page with a modest £50 target which was exceeded within an hour and has now raised nearly £400.
Jamie said: "The support has been overwhelming. It's amazing to see that despite the difficulties people are going through, they're willing to help others.
"I passed Croydon University Hospital on one of my routes and thinking about the amount of work they're putting into saving lives really inspired me to keep going."
Hebe Wright, Relationship Fundraising Manager for London at Macmillan Cancer Support, said: "I want to say a huge thank you to Jamie for his enormous achievement of running 50K for Macmillan and all the people with cancer we are able support because of people like him.
"Jamie is an inspiration and beacon of hope in these trying times. Without him and those who donated to his run, we simply would not be able to do as much for the growing number of people who need us. It's never been more important as we strive to ensure cancer doesn't become 'the Forgotten C' during the Covid pandemic."
Answering the call from the community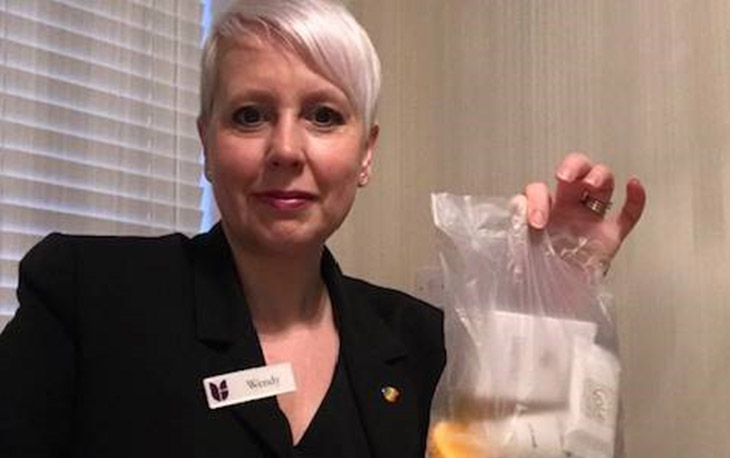 After seeing an urgent appeal on Facebook for toiletries for New Cross Hospital, Walsall based Funeral Arranger Wendy Tolley put together care packs and arranged for them to be delivered to the hospital.
Community answers the call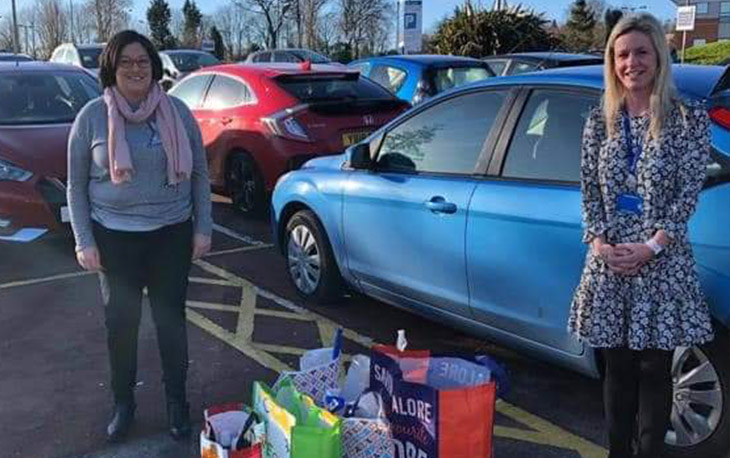 Funeral Administrator Linda Locking delivered toiletries donated by the very kind people near to where she lives in Durham.
Using the power of social media Linda advertised the appeal on her local area Facebook page inviting people to donate toiletries and leave in a container outside her front door whilst on their daily exercise if they were passing.
Linda has delivered everything that has been collected so far to Phillipa at the CDDT Charity who will distribute between The University Hospital Durham and the Community Hospital in Chester Le Street
Christmas Memorial
Due to Covid-19 the Firmager Funeral Service annual memorial service had to be cancelled.
Undeterred, Senior Funeral Arranger & Administrator Helen Carr and Funeral Service Operative Trevor Clark contacted every family they had supported during 2020 to let them know that there would still be a memorial tree in the courtyard at the funeral home.
Families could let the team know what to write on a memorial tag for them to place it on the tree or they could add a tree tag themselves in memory of a loved one if they were passing as part of their daily exercise.
Helen said: "At the same time, we were asking for donations in support of our local hospice. we always support them at our Memorial Service and were determined they should be supported this year too.
I am happy and very proud to say that the tree was a huge success, and we are now forwarding a total of £1035.00 to the Pilgrims Hospice. Thank you to everyone who contributed."
Lest We Forget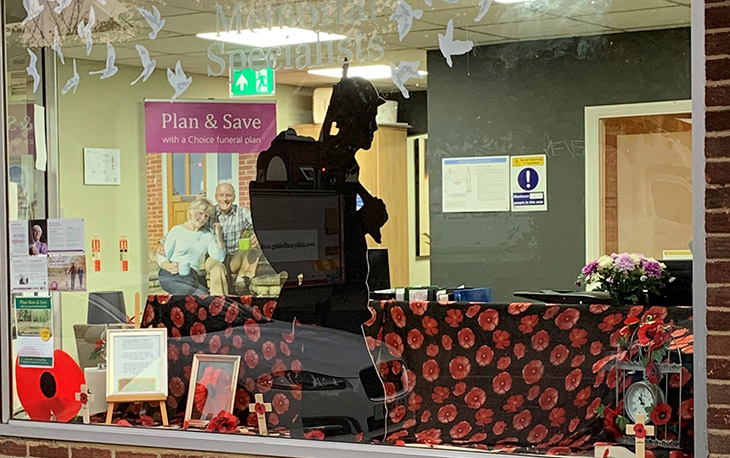 Doves Funeral Directors in Swanley, Blackheath, and Orpington decorated their windows in support of the Royal British Legion and to honour both fallen and serving members of the Armed Forces community.
Lest We Forget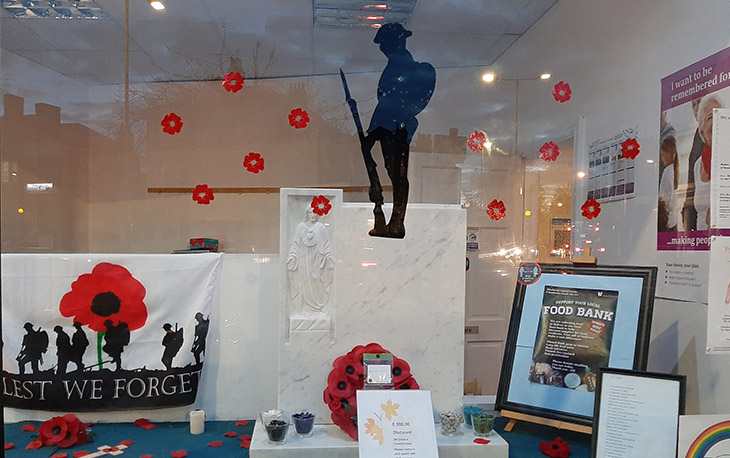 Ashdown Funeral Services in Belvedere decorated their windows in support of the Royal British Legion and to honour both fallen and serving members of the Armed Forces community.
Christmas Memorial Tree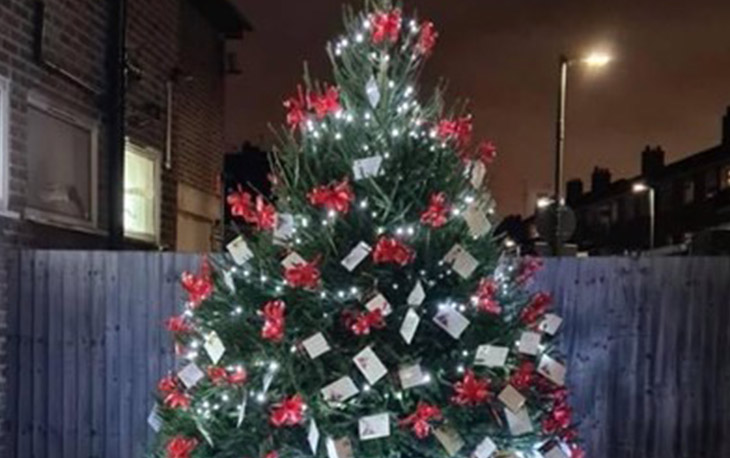 Due to Covid-19 the decision was made to move the memorial tree to outside the Ashdown Funeral Services branch so that memory tags could still be placed.
With some small adaptions the memorial tree which has become so symbolic at this time of the year was still able to be offered to the community.