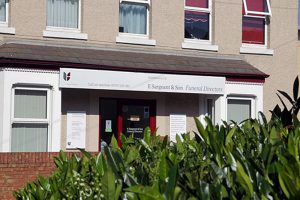 On Sunday 15th October staff from E Sargeant & Son transported residents from the Windmill Care Centre in Slough to Sunday lunch in style using two of their Jaguar limousines.
Funeral Director Abbie Reeve and Funeral Arranger Katrina Gascoyne ensured nothing but 5 star treatment for their special guests during their day out, and with the help of Activities Coordinator for the centre Richie Robles everyone enjoyed a carvery roast lunch and social afternoon with their friends.
Area Development Manager Mark Clements said " When the Activities Co-ordinator at the Windmill Care Centre contacted us asking if we could help with transport we were only too pleased to offer our services and it was our absolute pleasure to be able to transport the residents, carers and Richie in style".
Richie thanked the team from E Sargeant & Son for their time and caring approach.
Funeral Director, Abbie Reeve and Funeral Arranger, Katrina Gascoyne together with Mark Clements all willingly gave up part of their Sunday to make the event a success with Katrina on hand to assist a resident transfer from the car to a wheelchair, all in a day's work for the dedicated team at Sargeant's.