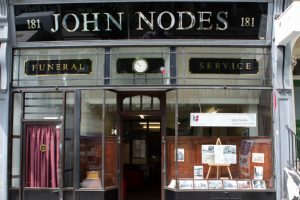 As Funeral Directors serving North Kensington, John Nodes Funeral Service had the distressing task of arranging eight funerals for victims of the Grenfell Tower tragedy.
But Funeral Director Robin Taylor-Jones and Funeral Arranger Hayley Mullins were honoured when they subsequently received an invitation to attend the National Memorial Service, held in December 2017.
After receiving a fantastic review online, the family who had placed the review arranged the tickets for them to attend the service at St. Paul's Cathedral.
Robin said: "The Cathedral was packed with people of all religions joining together in unity for the loss of loved ones and friends, and the service reflected this. It was highly emotional and poignant, especially when the recording of the voices on the morning of the fire was played back.
"It really was an honour and a privilege to be invited – even more so when we found that our seats were with the many families, and six rows behind the Royal Family.
"Both Hayley and myself were proud that we could represent Funeral Partners at this service and to show continued support to the families that we were privileged to help, support and guide at the most difficult time of their lives. This is a day which will be indelibly set in our memories."