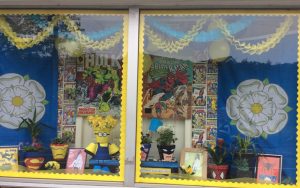 We were among businesses who showed their support for cyclists who took part in the Tour de Yorkshire on 2 – 5 May 2019.
Our Funeral Arrangers Nancy Brown and Jackie Higgins created a superhero-themed display in the window of the branch in Kippax.
They cheered on the cyclists as they passed the branch during the Men's race on 3 May.
Jackie Higgins said: "Even though the weather was cold and wet it was a brilliant atmosphere, I handed out seven dozen biscuits that I made and iced either blue or yellow."