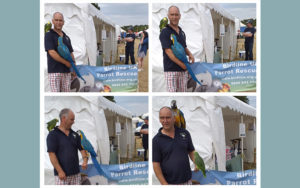 Funeral Director Mark Carr attended the Torbay Steam Fair from 2-4th August to raise money for Birdline UK Parrot Rescue.
This 3 day spectacular attracts visitors from far and wide and is one of the highlights of the summer season.
Birdline Parrot Rescue is a registered charity run completely by volunteers operating across England, Scotland and Wales rescuing, rehabilitating and rehoming parrots.
They say never work with children or animals but Charlie the Amazon Parrot and Frank the Blue and gold Macaw were definitely the exception to the rule and knew how to pull in the crowds!
Visitors were treated to displays of working steam engines, vintage, and classic cars, lorries and military displays. There was also children's entertainment and refreshments aplenty.
Mark has also recently taken Charlie and Frank to the Crofton Women's Institute for the afternoon to give the ladies an insight into to what the charity does and the dynamic duo were a hit.
For more information about Birdline visit their website https://birdline.co.uk/