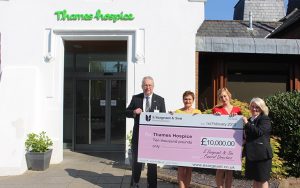 The team at E Sargeant & Son have pledged to raise £50,000 for Thames Hospice over the next five years. Here is Area Development Manager Mark Clements and Funeral Arranger Alison Moys handing over a cheque for funds raised during 2018.
The teams, from the Slough, Windsor and Maidenhead branches are well under way with activities planned until the end of 2019 as part of their five year commitment to raise money for this vital service.
To find out what the teams have planned next, visit their fundraising page, https://thameshospice-2019.muchloved.com/Fundraising
call, or pop into branch.