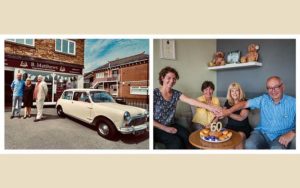 B Matthews recently celebrated the big 6-0 with an open day. On the 10th July the doors were open for the local community to come and celebrate with the team and to indulge in rather a lot of tea and cake!
Guests were treated to a trip down memory lane with a vintage Mini taking pride of place at the front of the branch and a display showcasing the Movies, TV and events in their established year, 1959.
Well done to Funereal Arranger Gill Silsbury for putting the event together and here's to the next 60 years!