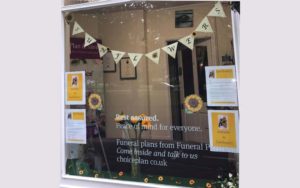 This window display was created by Nicole at Binley Road to create awareness of a local bereavement support group. It is also dedicated to all those children and young people taken too soon.
Sunflowers was set up by Amanda Willoughby who, through her own personal experience, wanted to help and support families in Coventry that had lost a child. The groups take place once a month and everyone is welcome to attend. Attending a group like this might be daunting but Amanda assures every one of a warm welcome and a smile.
It is with great pride that Henry Isons work with groups such as this to promote the good work they are doing for the local community and it is an honour to dedicate our window to them.
If you would like to find out more about Sunflowers email Amanda at amandawilloughby@gmx.co.uk