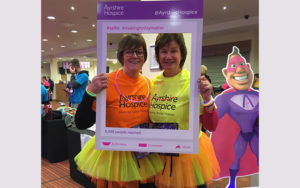 On Saturday 18th May Lorraine Gordon donned her very brightest walking gear to take part in the 11th annual Starlight Walk in aid of the Ayrshire Hospice.
Lorraine started the walk at 10pm from Ayr Racecourse, walking a total of 13 miles. She returned to the racecourse at 2.35am and raised a staggering £415.50 for the Hospice.
Lorraine was definitely a star for the night and we are proud to say she is our star too. Well done!