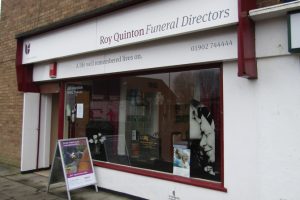 To help celebrate Sunrise Senior Living's 10th birthday, the team from Roy Quinton Funeral Directors, Tettenhall Wood donated a Compton Casket time capsule, which was filled with memories and planted with a tree to mark the event.
Funeral Arranger Jill Holmes was invited to attend Sunrise's celebration and help organise the event, which saw the conclusion of the community's' ten months of fundraising in the lead up to its birthday.
A special 'Tea at the Ritz' was hosted at the home with the celebrations starting in the morning following the burying of our donated time capsule.
Later in the day residents, friends, family and neighbours joined in with the festivities, where the local barber shop quartet, Tickled Pink, provided entertainment for all to enjoy, with some acapela classics.
An afternoon tea was served, with a selection of delicious sandwiches and cakes and all funds raised as part of the event went to a local charity, Compton Hospice, which was the community's chosen charity for its final month of celebrations.
In the early evening, the community also hosted a Cheese and Wine event for professionals to attend, to network and share best practice, and also to meet and chat with the deputy mayor.
Jill said: "The entire day was wonderful. The dedication and compassion of Sunrise of Tettenhall in raising money for charities, both nationally and locally, has generated an amazing £1,064 so far, and I am proud to say that we at Roy Quinton have contributed to several of these fundraising activities.
"It is great to be a part of such a generous and supportive community and we are looking forward to being a part of even more fundraising opportunities this year!"